Sketch released of suspect sought in murder of George H.W. Bush's former doctor
Authorities on Saturday released a sketch of the suspect who gunned down a prominent cardiologist, once known to have treated former President George H.W. Bush., while the doctor was riding his bicycle through Texas Medical Center.
Dr. Mark Hausknecht, 65, was pronounced dead after he was shot at least twice about 9 a.m. Friday by a gunman who passed by on a bike, police said. Authorities combed through surveillance videos from businesses in the area and found a clip possibly showing a suspect last seen riding a light-colored mountain bike traveling west on Southgate Boulevard.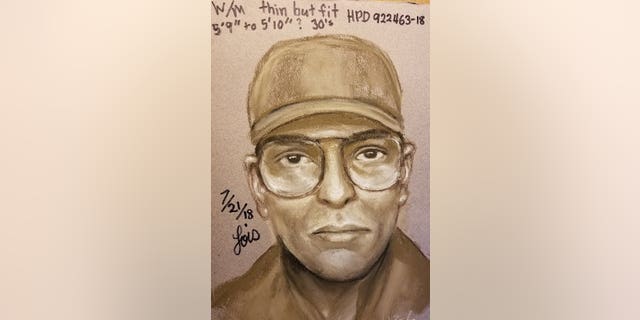 Police said it's still unclear if Hausknecht's death was a random or targeted attack, The Houston Chronicle reported.
"This is a crime that doesn't make sense," Houston Police Chief Art Acevedo said Saturday. "We don't even have a motive yet."
ONETIME BUSH DOCTOR IS GUNNED DOWN RIDING BICYCLE TO HOSPITAL WHERE HE WORKED
Authorities are hoping the sketch released of the suspect would lead to an arrest. Witnesses told police the suspected shooter was a clean-shaven man who is about 30 years old, 5 feet 10 inches with a slender build. He was wearing a baseball cap, sunglasses, gray warmup jacket and khaki shorts the morning of the shooting.
"We're still hopeful that the community in his neighborhood and on his path to work will all look through their home cameras and business video and review them to see if they see the doctor riding to work- and if they see anyone following him," Acevedo said.
Hausknecht was a well-known doctor and heading to Houston Methodist Hospital for work when he was killed. He was in medical practice for almost 40 years and specialized in cardiovascular disease, said Marc Boom, president and CEO of Houston Methodist Hospital.
Dr. Neal Kleiman, who was a close friend of Hausknecht and worked at Houston Methodist Hospital, told "FOX & friends" on Sunday the cardiologist was "in many ways a role model."
"Emotionally it's a very tough thing to deal with. I think we all experience that in the medical community. And this is completely…out of the blue. The medical center is generally regarded to be an almost protected environment," Kleiman said about Hausknecht's death.
He added, "Who could have done this? How could this have happen? It is completely unnerving and very much baffling."
In 2000, Hausknecht treated Bush for an irregular heartbeat. Bush said in a statement that Hausknecht was a "fantastic cardiologist and a good man."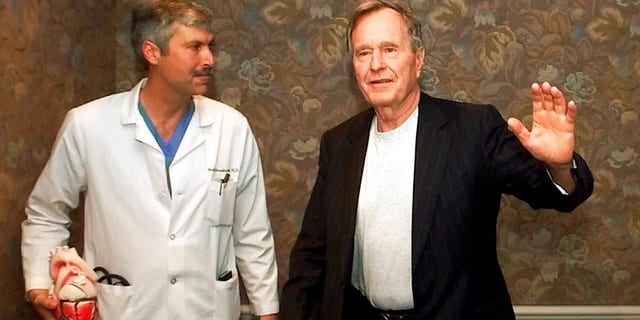 "I will always be grateful for his exceptional, compassionate care. His family is in our prayers," the statement added.
Hausknecht's wife, Georgia Hsieh, also released a statement Saturday.
"After spending his adult life saving and prolonging the lives of others, my talented husband, Dr. Mark Hausknecht, had his life prematurely ended."
She added, "So many have asked what can be done to help. While law enforcement has given you their focus on finding the criminal, I am asking you to use your vote and your voice to stem the tide of this growing public health epidemic. Write, email or tweet your Congressional Representative urging sensible gun laws. We owe it to future generations to leave a safer environment."
Police urged residents near the medical center to check their surveillance cameras for possible tips on the suspect. Anyone with information can call HPD or they can call Crime Stoppers at 713-222-TIPS.
Fox News' Paulina Dedaj contributed to this report.