Sister of suspect in Pennsylvania trooper ambush says she wants manhunt to end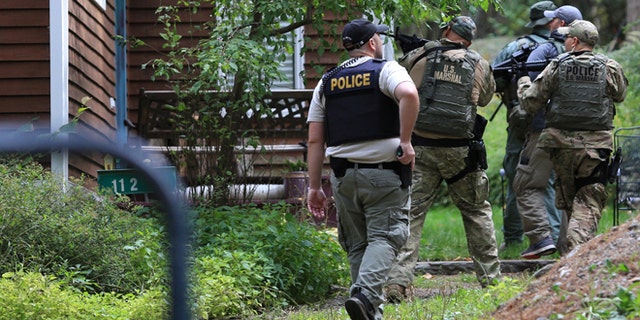 The sister of the suspect in the shooting ambush that killed one Pennsylvania state police trooper and wounded another says she wants "this to be all over" and her brother should "suffer the consequences" if he was indeed the shooter.
"At the same time, I don't want my brother to sit and rot in jail," Tiffany Frein, 18, told the Scranton Times-Tribune.
Eric Frein, 31, is charged with opening fire at the Blooming Grove police barracks during a shift change on the night of Sept. 12, killing Cpl. Bryon Dickson and seriously injuring Trooper Alex Douglass. Frein has managed to elude hundreds of law enforcement officials looking for him in the difficult terrain. He has been placed on the FBI's Most Wanted list.
Tiffany Frein describes her brother as being someone who mostly kept to himself, but was there for her when she needed him.
"We are a typical brother and sister. We fought and had our moments, but we bonded," she said.
But Tiffany Frein said Eric was "really into guns." His father told police that he taught Eric how to shoot and he became good enough to be one of the Pocono Mountain High School's top members on its rifle team, according to the Scranton Times-Tribune.
Vincent Cardo, of Blakeslee, who was a teammate of Frein's in the early 2000s, told the newspaper that Eric was quiet and kept to himself, but was also big into conspiracy theories, such as the assassination of President John F. Kennedy.
Meanwhile, Pennsylvania State Police Trooper Adam Reed told The Associated Press that the focus of the search remains in the same general area as the past two days, but has moved slightly to the southeast.
Police are constantly following up on information they receive, Reed said. He declined to go into specifics about why the shift occurred or what new information police have.
The search for Frein entered its 17th day on Monday. Authorities believe they have him contained within a 5-square-mile perimeter around his parents' home in Canadensis.
Frein is described by authorities as a survivalist, marksman and war reenactment enthusiast who planned his attack on police for years, extensively researching how to avoid police manhunts and experimenting with explosives. Frein has held anti-law enforcement views for many years, police said.
Investigators believe he is armed with at least one high-powered rifle, and might have booby-trapped the woods where authorities are looking for him.
The Associated Press contributed to this report.