The Uzbekistan native accused of carrying out a deadly New York City terror attack was "brainwashed," his sister said on Friday as she pleaded for President Trump to give her brother a "fair trial."
Umida Saipova, 27, told Radio Free Europe/Radio Liberty in a telephone interview that she believed her brother was "brainwashed" and that she and her family had a "normal" conversation the day before Sayfullo Saipov plowed a rented Home Depot truck into a popular bike path in lower Manhattan, killing eight people and injuring 12 others.
"We don't know who has brainwashed him," Saipova said in Uzbek to the radio station. "We don't know his circumstances. We don't know. Perhaps he's become part of some organized group."
"I don't know, honestly, how long it will take for his head to get rid of that poison, but I'm sure he will come to his senses, God willing," she added.
"I spoke with him by the phone a day before," Saipova said. "He was in a good mood. It was a usual, good conversation."
PROSECUTORS SAY NYC TERROR ATTACK SUSPECT 'CONSUMED BY HATE,' ASKED FOR ISIS FLAG
The suspect's sister said she wanted to travel to the U.S. to speak to her brother in person and to learn what drove him to carry out the terror attack. When asked about President Trump's tweets calling for the death penalty for Saipov, she said the family was "hoping for a fair trial."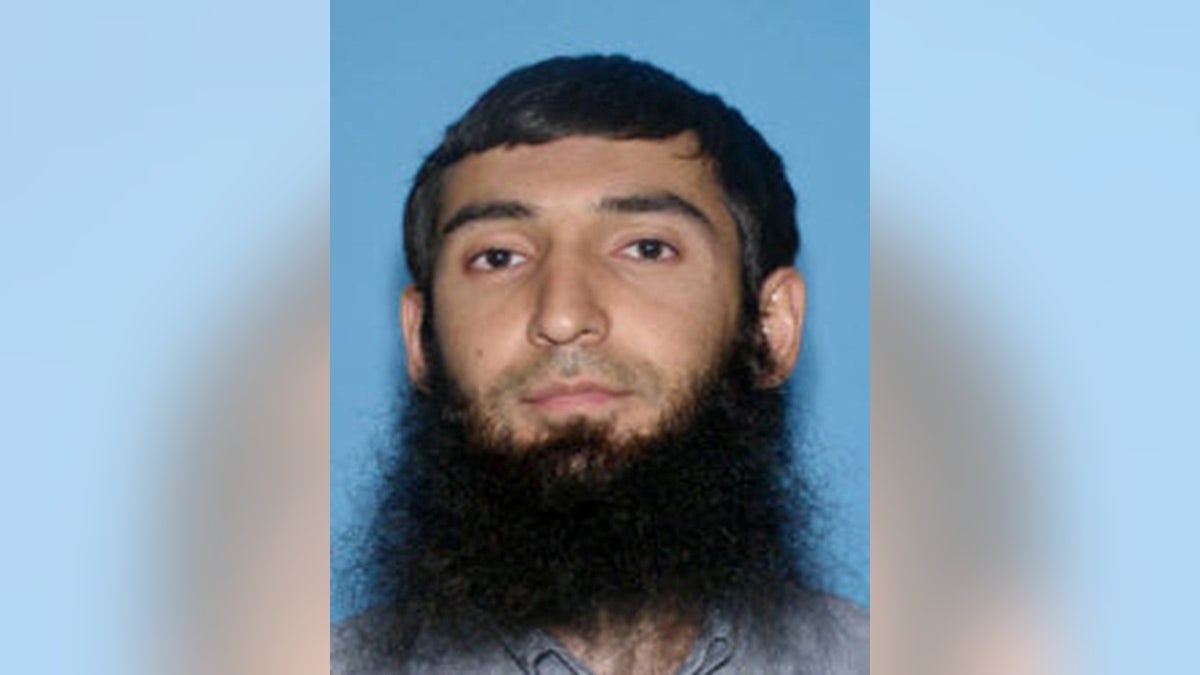 "We don't think he should be given the death penalty immediately," Saipova told RFE/RL. "We are hoping for a fair trial. We are ready to go there [to the U.S.], if it's possible, to talk to him."
The 29-year-old man was said to be "consumed by hate and a twisted ideology" when he attacked pedestrians on Oct. 31, federal prosecutors said last Wednesday. The "lone wolf" suspect told investigators from his hospital bed, recovering from a gunshot wound to his stomach, that he was inspired by ISIS videos and plotted the attack a year ago. Saipov was charged with providing material support to a terrorist group and committing violence and destruction of motor vehicles.
NYC TERROR SUSPECT SAYFULLO SAIPOV: WHO IS HE?
A propaganda arm of the Islamic State group on Thursday called Saipov a "soldier of the caliphate." Saipov jumped out of his truck and yelled "Allahu akbar" — meaning "God is great" in Arabic — after he crashed the vehicle into a school bus. Investigators found knives in the truck and a handwritten note, which included Islamic religious references and the phrase, "Islamic Supplication. It will endure," FBI agent Tamber Tyree said on Wednesday.
Prosecutors also said the suspect had 90 videos and 3,800 photos saved on one of his two cellphones. Many of the materials found were ISIS-related propaganda pieces that included images of prisoners being beheaded, shot or run over by a tank.
Saipova said her mother visited Saipov twice in the U.S. and didn't see "any sign" of radicalization during those visits.
"My mother says she didn't notice any sign of [radicalization] when she visited him in the U.S. twice," she said. "My mother said she would have brought him back to Uzbekistan had she noticed anything."