Sinkhole swallows up car in Indiana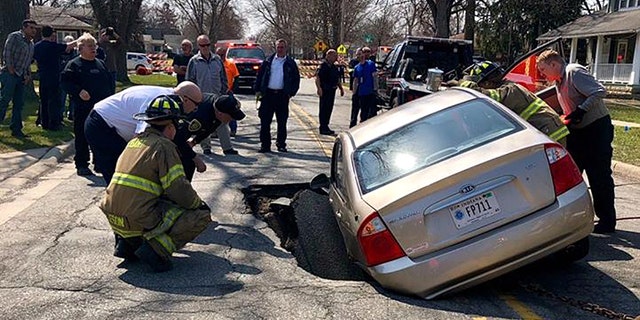 NEWYou can now listen to Fox News articles!
A driver in northwest Indiana got quite the surprise on Wednesday after driving into a sinkhole that nearly swallowed the vehicle.
The Hobart Police Department posted a photo on its Facebook page, which showed the car wedged into the hole.
"Steer clear of the area of 9th & Lincoln Street (State Road 51). Vehicle in sinkhole and road will need to be repaired," police said.
City Engineer Phillip Gralik told the Chicago Tribune the sinkhole was caused by a sanitary sewer collapse, and that officials had been alerted to a depression in the pavement a few weeks ago. Work on trying to fix the issue was to begin on April 16.
BIKER BURIES SKELETON IN POTHOLE PROTEST
"We moved as fast as we could but apparently it was much faster along than we realized or could have imagined," Gralik said.
It was unclear if the driver was injured, although she was taken to a local hospital, the Times of Northwest Indiana reported.
The road will remain closed until repairs are made, according to police.