Sign language interpreter delivered gibberish, confusion at Tampa serial killer news conference
As authorities in Tampa announced the arrest of a suspected serial killer last week, hearing-impaired people tuning into the news conference got quite a different message from an American Sign Language interpreter.
Instead of getting a rundown from Tampa Police Chief Brian Dugan on the timeline of the four shootings and what led up to the arrest of 24-year-old Howell Emanuel Donaldson III, interpreter Derlyn Roberts made signs that were gibberish, according to those who watched in confusion.
"She sat up there and waved her arms like she was singing Jingle Bells," Rachell Settambrino, who is deaf and teaches American Sign Language at the University of South Florida, told the Tampa Bay Times through an interpreter.
Among the things Roberts signed, according to Settambrino, were the following: "Fifty-one hours ago, zero 12 22 (indecipherable) murder three minutes in 14 weeks ago in old (indecipherable) murder four five 55,000 plea 10 arrest murder bush (indecipherable) three age 24."
But Dugan was instead describing how his agency received around 5,000 tips before the 24-year-old's arrest.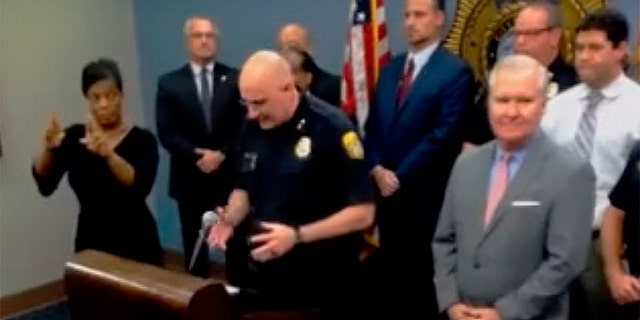 "I was disappointed, confused, upset and really want to know why the city of Tampa's chief of police who is responsible for my safety and the safety of the entire community did not check her out," Settambrino told the newspaper.
City officials were just as puzzled by the interpreter.
TAMPA SERIAL KILLER SUSPECT USED SAME GUN IN 4 KILLINGS, POLICE SAY
Tampa Police Department spokeswoman Janelle McGregor told FOX13 Tampa in a statement officials are conducting an internal review because they didn't request an interpreter for the Nov. 28 news conference, and are trying to figure out "if someone requested that she attend or exactly who sent her to provide services."
Settambrino said Florida, unlike some other states, does not require ASL interpreters to be certified through the Registry of Interpreters for the Deaf, a national nonprofit that "seeks to uphold standards, ethics, and professionalism" for the field, according to its website.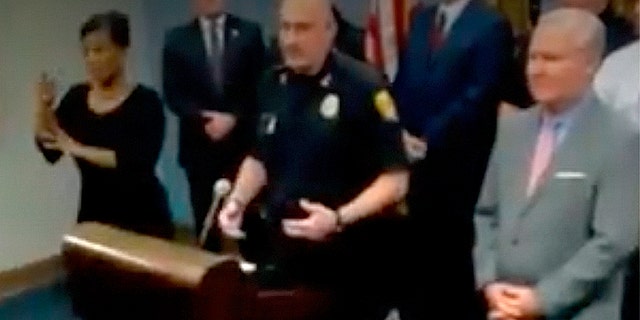 Florida law says only that ASL interpreters have to be "qualified,"
The incident is the latest example of an apparently unqualified signer appearing at news conferences. In September, as Hurricane Irma approached Florida and officials announced a mandatory evacuation, an interpreter in nearby Manatee County began signing words like "pizza," ''monster" and "bear," along with other gibberish.
Manatee County officials later said they were in a pinch and called on a county employee who had an understanding of sign language because he communicates with his deaf brother. However, it quickly became apparent he was in over his head. The deaf community demanded an apology and the video of the news conference went viral.
The Associated Press contributed to this report.