Shootings at American Indian center prompted by eviction, relative says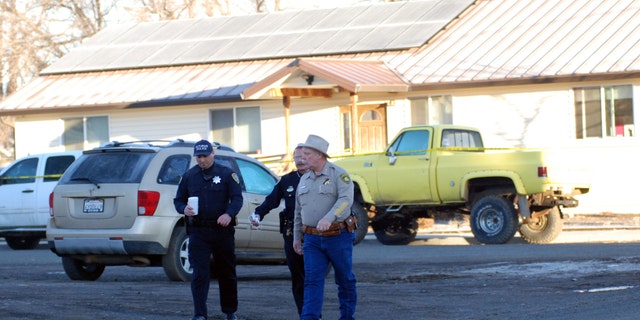 NEWYou can now listen to Fox News articles!
ALTURAS, Calif. – Though police said they are still working on a motive, the nephew of a Northern California woman accused of killing four people, including three of her own relatives, says that she snapped when members of an Indian tribe threatened to evict her and her son from tribal land.
Authorities have accused 44-year-old Cherie Lash Rhoades with shooting the four people to death at the Cedarville Rancheria headquarters building and wounding two others in a gun and knife attack.
On Thursday afternoon, her brother, Rurik Davis, and other tribal members were attending a meeting involving Rhoades's potential eviction at the site in the rural northeastern California community of Alturas. It's unclear precisely when the shooting began, but in quick succession Davis, 50; Rhoades' niece, Angel Penn, 19; her nephew, Glenn Calonicco, 30; and Shelia Lynn Russo, 47, were killed.
One of Rhoades' nephews, Jason Penn, said Rhoades' brother was behind the eviction effort. Rhoades recently was ousted as chairwoman of the 35-member tribe that includes many of her relatives. Eviction from tribal housing is among the most serious punishments for American Indians.
"Her brother drove her too far," Penn said as he stood in the front yard of Rhoades' home on the tribe's property in Cedarville, about 15 miles from Alturas.
Penn said he drove into Alturas on Thursday with Rhoades, and she dropped him off at a cousin's home before going to tribal headquarters. He later heard about the shooting.
"All I heard was there was some shooting, and my sister and brother were dead," he said with a shrug. His sister was Penn, and his brother Calonicco. "I've gotten over worse."
Investigators have been looking into whether Rhoades took at least $50,000 in missing federal grant money meant for the tribe she once led, a person familiar with the tribe's situation told The Associated Press on Friday. The person spoke only on condition of anonymity. Rhoades recently was ousted as the tribe's chairwoman.
Alturas Police Chief Ken Barnes said Friday that authorities have been checking whether the embezzlement allegations spurred the tribe's efforts to evict Rhoades, but had not established any definitive motive,
"If we could confirm or deny that, it would help me toward a motive," Barnes said.
Police armed with rifles and pistols served a search warrant on Rhoades' home Friday but would not say what they had seized.
Barnes said that as the shooting erupted, young children were inside the building and on the property, and a judge from another tribe was listening to the eviction proceedings over the phone.
After running out of bullets, Rhoades grabbed a kitchen knife and stabbed a woman, police said. She chased one of Davis' daughters out of the building and into the parking lot while brandishing the knife.
Both of Davis' daughters were wounded. Officials said that one was alert and talking, while the other remained in critical condition Friday.
Authorities were alerted to the attack when a woman covered in blood ran to nearby City Hall and rang a bell to get into a side door, City Clerk Cary Baker said.
"She was saying, 'Help me, help me, people have been shot,"' Baker said. The woman was not injured, Baker said.
Rhoades was booked on suspicion of homicide, attempted murder, child endangerment and brandishing a weapon. Russo's husband works at the jail, so Rhoades was transferred to an undisclosed location, authorities said.
The tribe's headquarters -- a ranch-style building with a pitched brown metal roof -- is in a residential area about a block from the police station. The area was cordoned off with yellow police tape Friday.
In addition to a kitchen knife, investigators found two semi-automatic pistols at the scene.
Alturas, the seat of Modoc County, is about 55 miles south of the Oregon border and 35 miles west of the Nevada line. The motto of the community of 2,800 people -- "Where the West Still Lives" -- reflects the area's wilderness and natural beauty.
The Cedarville Rancheria is a federally recognized tribe. The Rancheria owns 26 acres in Cedarville, where most members reside in nine small, one-story houses on lots on the outskirts of town. The tribal houses are clustered around a small playground.
An audit of the tribe's books by a private firm showed the tribe received $1.1 million in federal money in 2012. About half went toward tribal roads, with the balance directed to governmental and general assistance, and housing.
The audit, which was filed with the federal government in late November, raised questions about how the government and roads funds were spent. It found that both the bookkeeping and management of tribal programs had "material weakness" that created an opportunity for abuses.
A summary of the audit, posted on a federal website, did not detail specifics about the weaknesses nor the exact costs that the auditor questioned.
The decision to evict a tribal member is a "very big statement," particularly in a rural area where other housing might be hard to find, said Dennis Chappabitty, a California attorney with extensive experience working with tribal governments.
While Chappabitty has visited the Cedarville Rancheria, he said he did not know tribe's eviction rules. Generally, a tribe has wide latitude to evict a member, whether for failure to pay rent or "just bad behavior."
Problems can arise in small tribes, he said, because a member up for eviction might feel targeted for personal reasons.
The fourth victim, Russo, 47, was a tribal administrator who managed evictions and had two teenagers, said her mother, Linda Stubblefield of Taft.
Stubblefield said Russo had mentioned several times that she was worried about violence associated with evictions.
"Anytime you evict someone from their home, you're going to worry about this," Stubblefield said. "And you're taking their Indian rights from them."
Struggling to find words, Stubblefield said her son-in-law had called her to break the news about the attack.
"This is not supposed to happen," Stubblefield said.