Shocking video shows car driving into immigration protest; driver arrested
A motorist who drove his car through a crowd of marchers at a California immigrant rights rally was arrested Thursday, police said.
Daniel Wenzek, 56, was arrested for investigation of assault with a deadly weapon. He was later released pending results of the investigation.
Records showed Wenzek was convicted in 2006 of committing lewd acts against a child under 14.
Brea Police Chief Jack Conklin said none of the demonstrators were hurt following the incident. However, SEIU United Service Workers West said six people were taken to a hospital for evaluation.
The union, which helped organize the protest, and its president, David Huerta, said four union members and two staff were "victims of what appears to be a deliberate and hateful crime."
Police disputed that.
NEW DETAILS REVEALED IN CALIFORNIA MOM'S DISAPPEARANCE
"I think he was trying to get through the crowd," Lt. Adam Hawley said. "We don't have any indication he was trying to harm somebody."
The demonstrators were marching about 30 miles southeast of Los Angeles. They were urging Rep. Ed Royce, R-Calif., to support an existing temporary immigration program for citizens of several Central American countries, said Andrew Cohen, a spokesman for Unite Here Local 11, a union representing hotel, food service and airport workers.
A video released by Cohen showed a car pushing through a line of demonstrators marching. A few protesters stopped, pounded on the hood and one person was pushed as the car moved forward.
The driver of the car was honking the horn the whole time.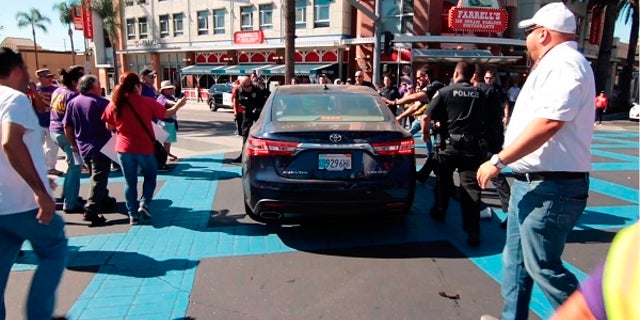 "We ran over, fearing the worst," Cohen told CBS Los Angeles. "I think a lot of people have Charlottesville in our minds."
CALIFORNIA WOMAN, 45, IN 'SHOCK' AFTER UNEXPECTEDLY GIVING BIRTH
In August, a car rammed into a group of counter-protesters demonstrating against white nationalists in Charlottesville, Va., killing one person and injuring 19 others.
As the car drove to the middle of an intersection on Thursday, police surrounded the vehicle and arrested the driver.
The Associated Press contributed to this report.