Sheriff says four foreign soldiers among eight dead in Missouri floods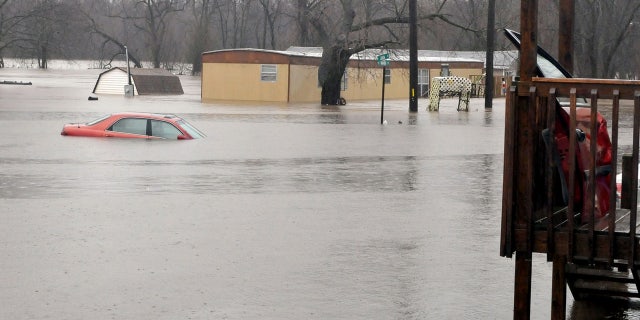 Four foreign soldiers who were temporarily stationed at a central Missouri Army base were among the eight confirmed victims of major floods in the state over the weekend.
Pulaski County Sheriff Ronald Long said in a statement late Sunday that a witness saw a car be swept downstream after driving into a flooded roadway a day earlier. First responders found the bodies of two men inside the sedan who apparently had drowned, and the bodies of two other men who had been in the car were found Sunday.
Long's statement did not identify the soldiers or their nationality due to pending notification by the U.S. State Department. The sheriff said the victims were undergoing training at Fort Leonard Wood.
Long added that it's possible that a fifth person was in the car because an acquaintance of the soldiers' is missing.

On Sunday, Missouri Gov. Jay Nixon declared a state of emergency after heavy rain caused dangerous driving conditions.
In addition to the four soldiers, two other people died in Pulaski County when their car was swept away by floodwaters. Authorities in Greene County, where the state capital of Springfield is located, said two fatalities there were associated with the flooding.
The Associated Press contributed to this report.