Several people shot, including pregnant woman, at Texas football game, police say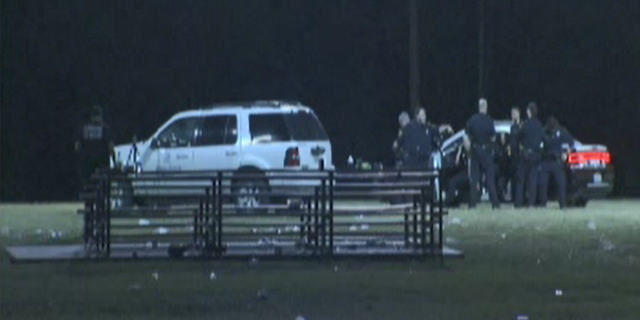 At least five people were injured, including a pregnant woman, when two shooters unleashed a hail of bullets at a Texas football game on Sunday, police said.
The group of people were at a park around 9:30 p.m. in Dallas' Fair Park neighborhood when shots rang out, KDFW reported. A video posted on to social media showed people arguing before they began screaming when several gunshot-like sounds were heard in the background.
The man who recorded the video said at least 10 shots rang out. Police arrived at the scene and applied tourniquets to the shooting victims.
WARNING: Video below contains violence.
The wounded pregnant woman was taken to the hospital with a gunshot wound to the chest, police said. The woman had an emergency C-section to save the baby, CBS DFW reported. The baby survived, but the woman remains in critical condition as of Monday morning.
DALLAS WOMAN SAYS SHE KILLED HUSBAND FOR BEATING THEIR PET CAT, COPS SAY
Another woman and two men suffered gunshot wounds to their legs. A third woman suffered a gunshot wound to the head.
Their conditions were not immediately clear.
Police were scavenging the football field Monday morning for evidence. Police told the news station they are looking for two shooters, but have not released details about the suspects.
It's unclear what the motive of the shooting is at this time.