Sen. Rubio Wants to Give VA Secretary More Authority to Fire Workers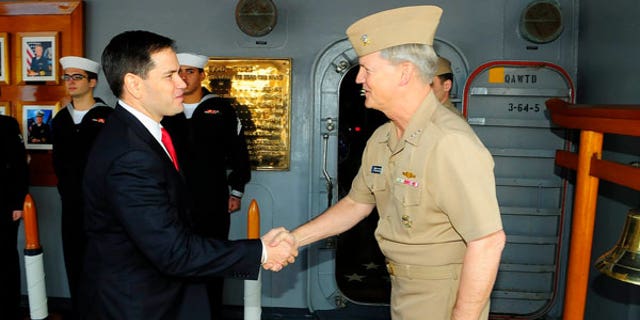 Presidential candidate Sen. Marco Rubio, R-Florida, has filed legislation to make it easier for Veterans Affairs Secretary Bob McDonald to fire workers and lengthen new workers' probationary period from a year to 18 months.
Rubio filed the bill on April 23, the same date that House Veterans Affairs Committee Chairman Rep. Jeff Miller, another Florida Republican, filed identical legislation on the House side.
Both lawmakers said new authority was needed because the law passed last year to help rid VA of senior executives linked to the wait-times scandal has been ineffective. No one has been fired in connection with the appointment delays, which the VA concluded contributed to the deaths of patients.
"I'm very concerned that the VA secretary has apparently not been straightforward with the American people and with Congress about the department's use of the firing authority it was granted last year," Rubio said in a statement. "Our veterans who have been victimized by incompetence and ethical lapses at the VA deserve better, and Congress should step up with new measures to do right by them."
Miller, who has been among the most vocal members of Congress in his criticism of VA failures, said accountability "is a major problem at the department, and right now VA leaders must work with Congress to solve it.
"That's why our focus remains on giving the VA secretary more tools to ensure corrupt and incompetent executives face serious consequences for mismanagement and malfeasance that harms veterans," he said.
But the head of the American Federation of Government Employees, which represents more than 220,000 VA workers, said Miller's latest bill does not target executives, but rank-and-file employees by stripping them of job protections.
AFGE National President J. David Cox Sr. said the bill would "allow nearly 'at will' dismissals with immediate loss of all pay for all employees, including large numbers of service-connected disabled veterans in clerk, housekeeper and cemetery caretaker jobs supporting their families on less than $30,000 a year."
National VA Council President Alma Lee said the proposed legislation "targets the very workers who have risked their jobs to testify on management abuses, some of whom before the chairman's own committee."
"We need more protections for front-line employees, not fewer," Lee said.
The new bills do have the backing of the Veterans of Foreign Wars, The American Legion, the Iraq and Afghanistan Veterans of America, and Concerned Veterans for America.
"VA employees need to understand that if they harm veterans, then they will be fired. This bill delivers on that idea and is worthy of our support," VFW National Legislative Service Director Raymond Kelley said in a statement released with Miller's announcement late last week.
Miller said his bill would allow McDonald to remove any VA employee based on performance or misconduct. The employee would have seven days to appeal the termination to the Merit Systems Protection Board, which would then have 45 days to make a decision.
That became the law for senior executive service employees under last year's accountability legislation.
The new bill also would limit McDonald's authority to remove or demote a whistleblower who has filed a claim with the Office of Special Counsel and extend the probationary period for new employees from a year to 18 months.
At the 18-month point, the worker's immediate supervisor would have to declare that the employee is qualified for the job before full Civil Service protections are granted, according to Miller.
The proposed bill would also direct the Government Accountability Office to review how much time, space and resources employees devote to labor union activities at VA.
-- Bryant Jordan can be reached at bryant.jordan@military.com.