Semi plunges off Chesapeake Bay Bridge amid powerful winds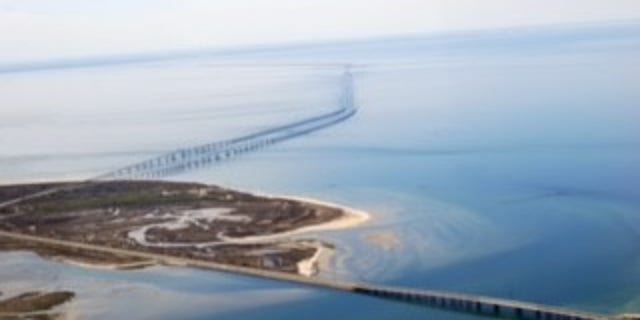 NORFOLK, Va. – Driving through heavy winds, a tractor-trailer plunged off a bridge into the frigid waters of the Chesapeake Bay on Thursday. Even though the driver was seen alive and standing on the floating truck's roof, he was found in the water and unresponsive by the time a U.S. Navy helicopter reached him.
NYC DOORMAN DIES SHOVELING SNOW DURING WINTER STORM
The truck driver died on the way to a hospital in Norfolk, said Thomas Anderson, deputy director of the Virginia-based Chesapeake Bay Bridge and Tunnel District. Anderson identified the driver as Joseph Chen, 47, of Greenville, North Carolina.
Anderson said investigators will determine if wind, or other factors such as a medical emergency, contributed to the crash on the 23-mile span of the Chesapeake Bay Bridge-Tunnel. Anderson says 12 people have driven off the bridge since it opened in 1964, and 10 of those people, including the truck driver, have died.
SLIDESHOW: WINTER STORM SLAMS NORTHEAST
The truck faced no travel restrictions because wind conditions were between 40 mph to 47 mph, Anderson said. However, earlier in the day, wind speeds were as high as 60 mph, limiting travel to cars, pickup trucks and SUV that weren't hauling cargo, according to the bridge-tunnel's website.
The tractor-trailer drove off the bridge shortly before 12:30 p.m., and the driver was rescued by the Navy a little after 1, said U.S. Coast Guard Petty Officer Corinne Zilnicki.
Zilnicki said heavy winds had forced a Coast Guard helicopter to abort its initial rescue mission. Laurie Naismith, a spokeswoman for the Virginia Marine Resources Commission, said winds also thwarted her agency's attempts to use boats to rescue the truck driver.
But a helicopter from a sea combat squadron was flying a routine training mission over the bay when the accident occurred, said Mike Maus, a Naval Air Force Atlantic spokesman.
"They apparently saw the accident happen," Maus said of the crew based at nearby Naval Station Norfolk. "The search and rescue swimmer went into the water and rescued the driver. And they hoisted him aboard the helicopter and transported him (to the hospital)."
The water was about 45 degrees, according to the website of the National Oceanic and Atmospheric Administration.
Anderson said the investigation is being handled by the bridge-tunnel's police department with assistance from the Virginia State Police.