Second of 2 convicts who escaped custody in New Mexico arrested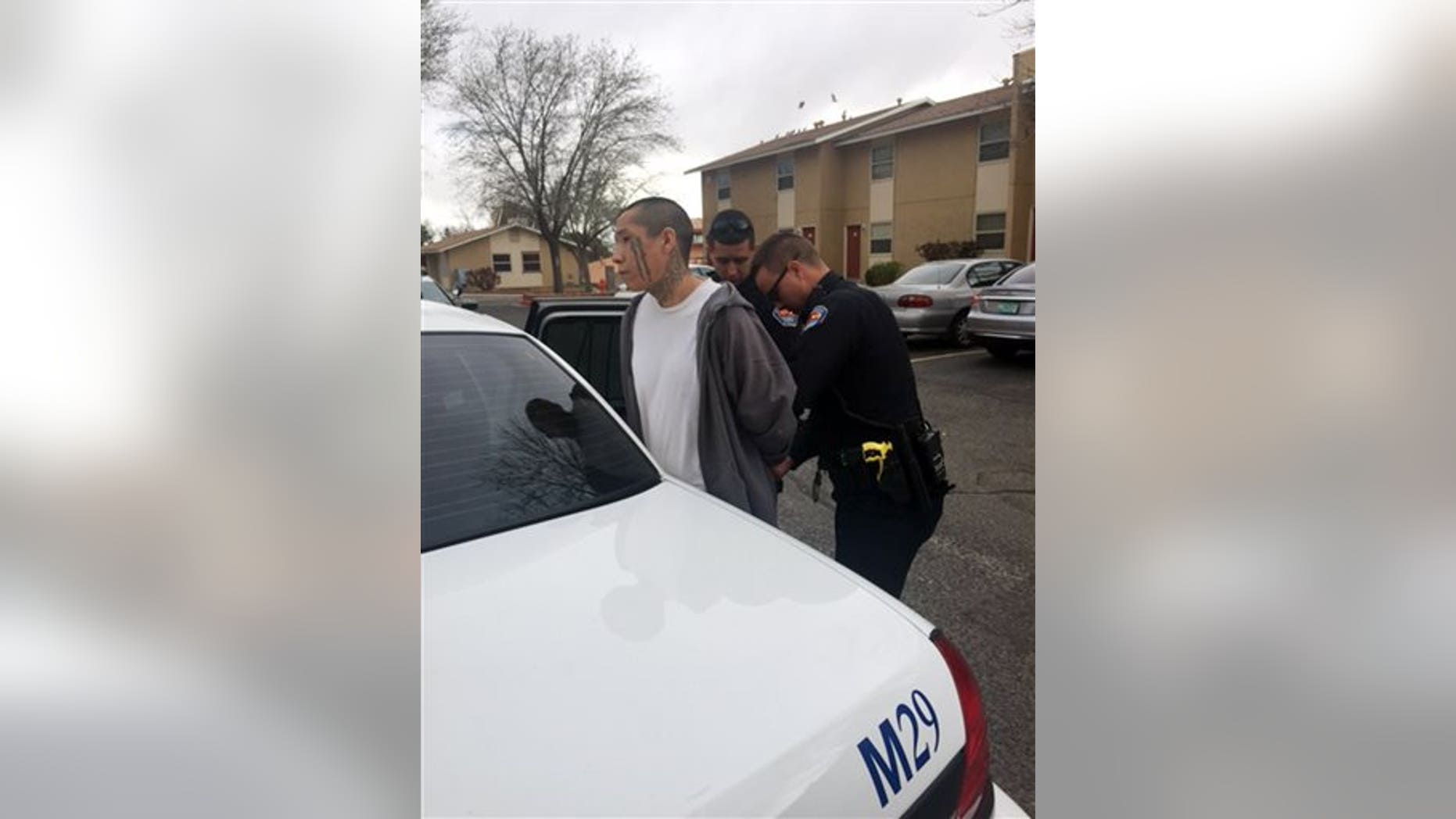 The second of two escaped New Mexico convicts was captured Saturday in Albuquerque, authorities said.
Lionel Clah was arrested in a northeastern part of the city, police spokesman Simon Drobik said. He will now be transferred into the custody of New Mexico State Police.
Clah, 29, was convicted of armed robbery and for shooting at a police officer in northern New Mexico.
His capture ends a three-day manhunt that started in southern New Mexico.
Joseph Cruz, 32, was arrested in Albuquerque on Friday after a brief foot chase, deputy federal marshal Ben Segotta said. The convicted murderer got a several-hour head start before authorities said guards reported he was missing. He managed to stay on the run for two nights on a desolate stretch of a southern New Mexico highway.
Corrections officials haven't said whether they know exactly where or when the men managed to escape, but they said it was sometime after 8:30 p.m. Wednesday and along a roughly 200-mile route between correctional facilities in Roswell and Las Cruces that included a gas-station stop in a smaller desert town.
Authorities didn't realize the men were missing until 1 a.m. Thursday, Corrections Secretary Gregg Marcantel said.
He and other state officials scrambled Friday to answer embarrassing questions about the missteps that could have been made that night, including how two felons bound by shackles somehow slipped away in white prison jumpsuits and vanished into the night with no one noticing, possibly for hours. The questions only helped to highlight concerns raised in recent months as the corrections department struggles with a budget crisis, a guard shortage, overworked employees and other problems.
Marcantel said the two unidentified guards in charge of transporting the prisoners were placed on administrative leave pending the outcome of the investigation into the escape.
"Anything less would be remiss," he said as he left a news briefing.
Cruz has been serving a life sentence since 2007 for a first-degree murder conviction for killing a man over drugs in Raton, N.M.
The U.S. Marshals Office offered a $10,000 reward for information leading to the capture of each of the men just hours before announcing Cruz was apprehended in a multi-agency investigation. State Police Chief Pete Kassetas said he was taken into custody near University of New Mexico.
He wouldn't say whether investigators had determined how Cruz and Clah escaped the fortified prison van that was transporting them from the state penitentiary in Santa Fe to the southern region of the state.
After authorities completed a headcount in Roswell, the two corrections officers pulled away from a state prison facility with five prisoners and all of their belongings in tow for the last leg of a long journey. Cruz and Clah weren't reported missing until after authorities stopped for gas at a convenience store in Artesia.
Authorities raised the likelihood that the getaway happened at the Artesia gas station, was planned and that the fugitives received assistance from others. But they wouldn't disclose what surveillance video from that gas station may have revealed.
"We're definitely talking to family members, friends, associates, whatnot," Kassetas said.
New Mexico State Police said late Friday they also arrested Cruz's sister, Olivia Cruz, for an outstanding warrant for possession of drugs, according to the Albuquerque Journal.
Elizabeth Armijo, a state police spokeswoman, said she hasn't been charged in the escape and that any potential involvement is still under investigation.
The Associated Press contributed to this report.