Sea lion who spent 4-day adventure inland finally rescued, back at sea
A Steller sea lion in Sitka, Alaska was reportedly rescued by officials on Monday after he spent four days trapped on land, dehydrated and hungry.
The sea creature was first spotted around 2 a.m. on Friday morning, running down a road in southeast Alaska, the chief of the Sitka Volunteer Fire Department told the Anchorage Daily News.
Estimated to be roughly 8-feet long, the animal was later spotted near a high school around a quarter mile away from water.
On Sunday, the sea lion was "hiding out in the woods ... likely stressed, dehydrated and hungry," according to Julie Speegle, of the National Oceanic and Atmospheric Administration (NOAA).
She said the animal's presence so far inland was "unusual," and that he appeared to be "scared and confused." The sea lion seemed to be scared of the road, which separated the woods from the ocean.
Eventually, scientists felt their best option was to sedate the animal, the news outlet reported.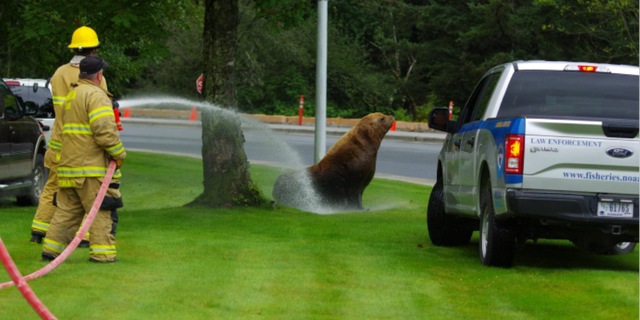 Volunteers cleared a line in the trees to the sea lion, and a NOAA veterinarian darted the creature around 1 p.m. on Monday.
The sea lion was rolled onto a front-end loader, then onto the back of a flatbed truck, before being driven to a harbor in Sitka.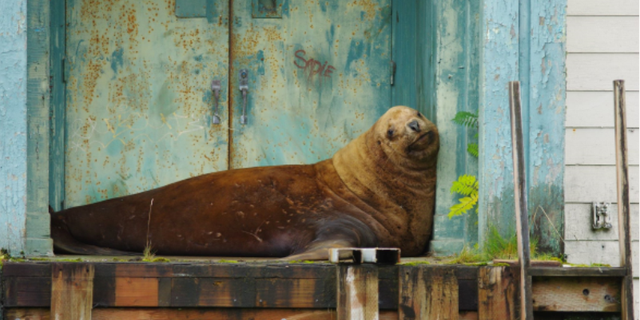 Kim Raum-Suryan, of NOAA's Protected Resources division, said that after the sea lion woke up, he was spotted swimming in the harbor.
Officials hope that "if he's healthy he'll go off and be a regular sea lion again."