Sandusky Made $457G From Pennsylvania Charity Despite Child Sex Allegations, Tax Records Show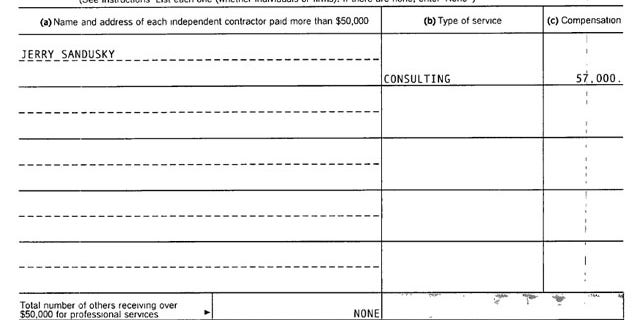 A Pennsylvania charity founded by Jerry Sandusky continued to pay the former Penn State defensive coordinator a consulting fee totaling nearly $500,000 over eight years, tax documents show, even though an attorney who reportedly worked with the charity -- and who also served as a counsel to the university -- knew Sandusky faced child sex abuse allegations.
Sandusky now is charged with a series of sexual assaults in a scandal at Penn State that prompted the university this week to oust its president and legendary football coach Joe Paterno. Two other campus officials faces charges of failing to notify police of alleged assaults occurring on campus.
Sandusky founded his charity, The Second Mile, in 1977 as a group foster home dedicated to helping troubled boys. In 2001, the charity began paying Sandusky an annual "consulting" fee of $57,000, tax documents reviewed by FoxNews.com show. The fees added up to $457,000 over eight years.
In November 2008, Sandusky informed the charity that he had learned he was being investigated as a result of allegations made against him by a young man in Pennsylvania's Clinton County. The consulting fees abruptly ended after 2008.
Calls seeking comment from The Second Mile were not returned late Thursday and Friday.
"Although he maintained there was no truth to the claims, we are an organization committed first and foremost to the safety and well-being of the children we serve," according to a statement on the organization's website. "Consistent with that commitment and with The Second Mile policy, we immediately made the decision to separate him from all of our program activities involving children. Thus, from 2008 to present, Mr. Sandusky has had no involvement with Second Mile programs involving children."
But in 1998, according to a grand jury report, Victim No. 6, who is now 24, told his mother he had showered with Sandusky in Penn State's Holuba Hall. Wendell Courtney, Penn State's general counsel, reviewed that report on behalf of the university before submitting it to then-Centre County District Attorney Ray Gricar.
Courtney reportedly also represented The Second Mile at the time.
Courtney didn't respond to FoxNews.com's request for comment for this story, though on Wednesday, he told the Pittsburgh Post-Gazette that he did not begin to represent The Second Mile until early 2009, calling reports to the contrary "factually incorrect." He told the Post-Gazette that he didn't inform the Second Mile a sexual abuse investigation had been conducted at Penn State, and he withdrew as the organization's counsel on Monday over conflict of interest concerns.
A spokesman for Attorney General Linda Kelly, however, disputed Courtney's claim.
"It's clear from the findings of the grand jury that Mr. Courtney had direct dealings with both Penn State and The Second Mile, and he had knowledge and was aware of the 1998 incident," spokesman Nils Frederiksen told the newspaper.
Meanwhile, The Second Mile's CEO, Jack Raykovitz, has earned more than $1.3 million since 1998. Raykovitz was informed in 2002 by Penn State Athletic Director Tim Curley -- who is now on paid administrative leave and faces criminal charges -- that an individual had reported to Curley that he was uncomfortable about seeing Sandusky in the locker room shower with a young boy.
"Mr. Curley also shared that the information had been internally reviewed and that there was no finding of wrongdoing," read a statement on The Second Mile's website. "At no time was The Second Mile made aware of the very serious allegations contained in the Grand Jury report."
Curley and university vice president Gary Schultz have been charged with perjury and failure to report the 2002 assault to police, as was required by state law. Along with Sandusky, both men maintain their innocence.