San Diego pays homeless people to pick up trash in new program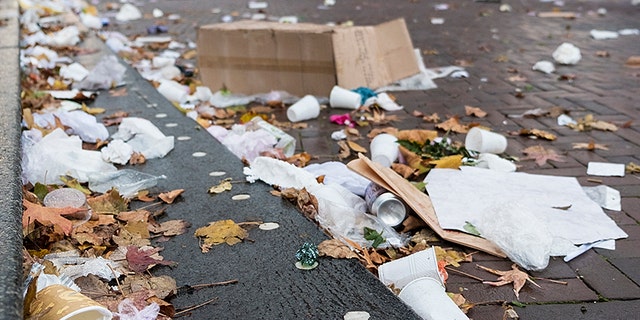 NEWYou can now listen to Fox News articles!
San Diego officials are putting homeless people back on the street — but this time to pay them to pick up trash as part of a new program that launched Monday.
The homeless people, who are staying at the city's tented shelters, will be cleaning up trash and clearing brush in downtown San Diego for five hours a day, FOX5 San Diego reported. The program, called Alpha's Project's "Wheels of Change," will pay participants $11.50 an hour and expected to hold cleaning shifts three days a week.
"This is all about creating more opportunities for homeless individuals to lift themselves out of extreme poverty," Mayor Kevin Faulconer said. "'Wheels for Change' will help restore dignity by allowing people to earn a paycheck and begin to get back on their feet. For many, this may be just the chance they need to begin turning their lives around."
COMMUNITY FIGHTS BACK AS CALIFORNIA OVERRUN BY HOMELESSNESS, HUMAN WASTE, NEEDLES
Program participants will also receive access to housing resources.
On Monday, participants cleaned up trash for a span of 12 blocks, Alpha Project CEO Bob McElroy told the San Diego Union-Tribune. He assured the money the homeless was receiving will be used productively.
"We're not going to pick up eight or 10 random homeless people and give them money that is going to be spent on drugs and alcohol," he told the newspaper. "But it's a perfect fit for the shelter."
However, the homeless encampments rapidly growing in California cities have trash and sanitation problems themselves. Officials in Orange County descended on a camp and removed at least 250 tons of trash, along with 1,100 pounds of human waste and 5,000 hypodermic needles.
HOMELESS PEOPLE DEFECATING ON LA STREETS FUELS HORROR HEPATITIS OUTBREAK, AS CITY FAULTED
A hepatitis outbreak also wreaked havoc on the state's homeless community in recent months because of all the feces littered in the streets of San Diego, Los Angeles and San Francisco.
San Diego opened three industrial-sized homeless tents, one operated by the Alpha Project, in early December to battle the hepatitis A outbreak, according to the San Diego Union-Tribune.
Homeless people staying at the tent said on Monday they liked the work.
"It's better than sitting in a tent all day," Edwin Fisk, who is staying at the Alpha Project tent, said. "It gives us something to do, you know? And you make money. Who wouldn't want to do that?"
Nichole Hill, who has been homeless for 18 months, also said: "I get to give back to the community and have some extra money to get around."
The new program follows similar ones that were launched in Chicago, Denver and Albuquerque, New Mexico, where it was first implemented.