San Bernardino school shooting suspect was 'wolf in sheep's clothing,' murdered teacher's mother says
The suspected gunman behind a murder-suicide at a California elementary school had a brief, tumultuous marriage with his wife before he gunned her down on Monday -- and the woman's mother described him as a ticking time bomb.

Investigators went the home of Cedric Anderson, 53, and seized electronics and a note, San Bernardino Police Chief Jarrod Burguan said in a news conference Tuesday.
CHICAGO JUDGE KILLED: FBI OFFERS $25G REWARD FOR INFO
Burguan said the note, which investigators believe was written by Anderson, referenced his relationship with Smith, his need for closure and how he felt disrespected.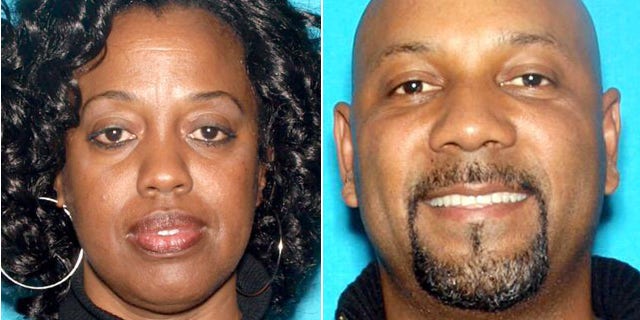 The document, however, did not contain information that would indicate it was a suicide note, according to Burguan.
1 SHOT DEAD, 2 WOUNDED OUTSIDE TENNESSEE AUTOMOTIVE PLANT
Anderson had a history of weapons, domestic violence and possible drug charges before his marriage to Karen Smith, 53, a teacher at North Park Elementary School in San Bernardino.
He was arrested four times between 1982 and 2013, but was never convicted in any of the cases, Burguan said.
Smith's mother, Irma Sykes, told The New York Daily News that "the real Cedric came out" after the seemingly happy couple got married in January.
"He was a wolf in sheep's clothing," Sykes told the newspaper.
She said her daughter had been friends with Anderson for about four years before they got married.
"He was so kind to her while they were dating. She had no idea," Sykes said.
Anderson accused Smith of infidelity within a month of being married, relatives said, though police have not verified that detail.
Anderson's Facebook page told a different story of their marriage. He often gushed about Smith, calling her an "angel" while professing his love. He depicted a relationship that showed no signs of trouble.
"I love being married to Karen Smith-Anderson!" he posted on Feb. 27 with a video.
"She knows when to ignore me," Anderson said with a laugh. "Well, it makes a happy marriage."
Another photo showed the two of them on March 4 in what he described as a date night. He also wrote about his religious devotion.
"After watching Greenleaf with my wonderful little wife. She finally understands me and why I feel the way I do about many Black Churches and so called Pastors," Anderson wrote in a March 14 post.
"God's people are their slaves, servants or just some thing to use."
His last public post was on March 15.
The relationship came to an end when Smith left him about a month and a half after their late-January wedding, police and family members said.
"He had other motives," Sykes told The Los Angeles Times. "She left him and that's where the trouble began. She broke up with him and he came out with a different personality. She decided she needed to leave him."
Smith moved out of their home and started staying with her children, police said. But Anderson continued to contact her after they separated and tried to get her to move back, relatives told police.
The teacher also told family members that Anderson made threats toward her, but she never took them serviously, thinking that he was only acting oddly to get her attention, according to Burguan.
No one at the school knew about Smith's marital discord, giving people no reason to suspect a possible shooting, according to the chief.
"She effectively kept her private life private," Burguan said.
On Monday, Anderson walked into North Park Elementary where school staffers recognized him, school district officials said. Security footage showed he tried entering from another door, but it was locked, Burguan said.
He followed the proper protocol and got into the school through the front office by saying he had to drop something off for Smith.
Anderson then walked into the special needs classroom, where Smith was teaching, and fired 10 shots.
Our condolences go out to the family & friends of Jonathan Martinez. A candlelight vigil will be held at North Park at 7 p.m. today. pic.twitter.com/yhYYIt3i7T

— SBCUSD (@SB_CitySchools) April 11, 2017
His estranged wife was his target and two boys, ages 8 and 9, were hit as he was firing at her, San Bernardino Police Chief Jarrod Burguan said. He emptied and reloaded the gun before turning it on himself.
The 8-year-old student, identified as Jonathan Martinez, later died from his injuries. Martinez was described as a child with Williams Syndrome who previously had heart surgery.
Sykes said her daughter was a dedicated teacher who took up the profession about 10 years ago after her four children grew up. Diane Abrams, a substitute at the school, told The Los Angeles Times that Smith "dedicated her life to her students."
The Associated Press contributed to this report.