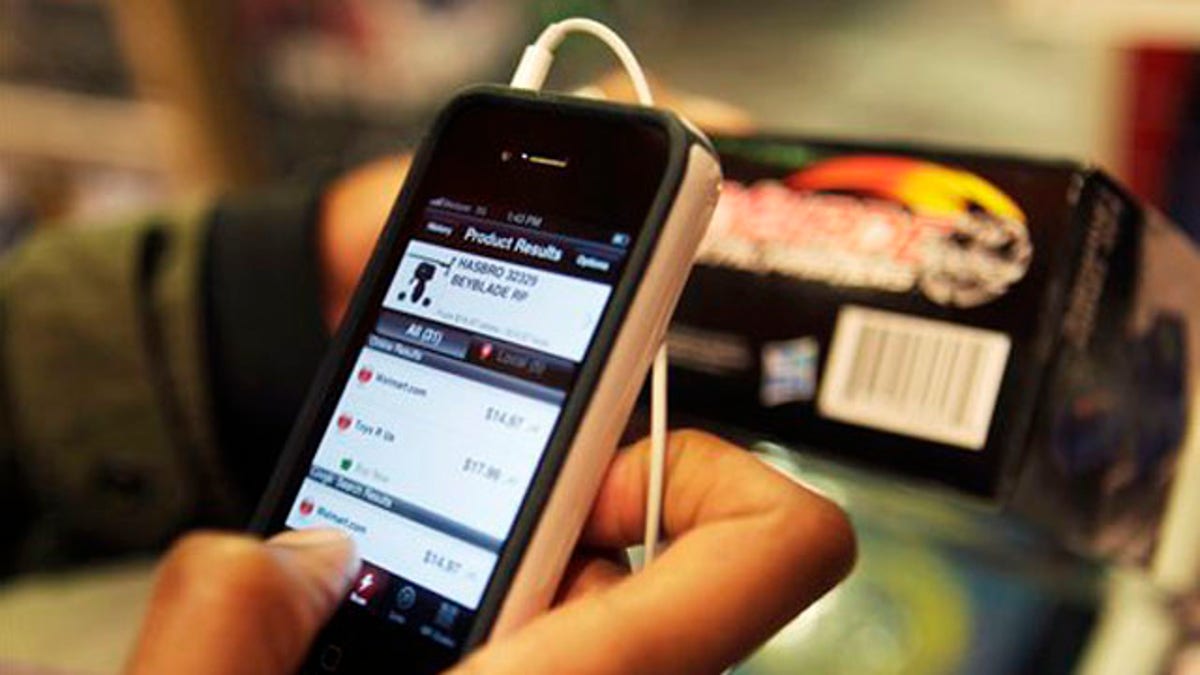 Shoppers seem to be just as enthusiastic about shopping on their computers and smartphones on Cyber Monday as they were about finding deals over the weekend.
Online sales on Cyber Monday, which was started in 2005 by a retail trade group to encourage Americans to shop online on the Monday after Thanksgiving, were up 18 percent from a year ago, according to data from IBM Benchmark. Meanwhile, sales from mobile devices were up 7.4 percent. The group did not give dollar amounts.
The Cyber Monday numbers point to Americans' growing comfort with using their personal computers, tablets and smartphones to shop. Over the past few years, big chains like Wal-Mart Stores Inc., the world's largest retailer, have been offering more and better incentives like hourly deals and free shipping, to capitalize on that trend. It's important for retailers to make a good showing during the holiday shopping season, a time when they can make up to 40 percent of their annual revenue.
On Monday, Amazon.com offered its bigger, more expensive Kindle DX for $259, or $120 off the regular price. The Express clothing chain was giving 30 percent off and free shipping on all online orders. And Wal-Mart, which has been calling the holiday "Cyber Week" in ads, was offering an LG 47-inch LED TV for $879, or $320 off the regular price.
"Cyber Monday is far more exciting to me than Black Friday," says Jamie Minoso, a 40-year-old English teacher from Alabama. "I do not enjoy the traffic and chaos involved in shopping at a mall."
To be sure, the strong start to Cyber Monday, created by a unit of The National Retail Federation, follows an even stronger kickoff to the holiday shopping season over the weekend. Americans shopped in record numbers, driven by earlier store openings and a push by retailers for online sales.
A record 226 million shoppers visited stores and websites during the four-day holiday weekend starting on Thanksgiving Day, up from 212 million last year, according to the NRF. And sales on Black Friday, the day after Thanksgiving, rose 7 percent to $11.4 billion, the largest amount ever spent, according to ShopperTrak, which gathers stores' data.
Online sales were strong even over the weekend. Thirty-eight percent of all purchases were made online this year, up from 31 percent to 32 percent last year, says Sherif Mityas, partner in the retail practice of A.T. Kearney, who believes the increase was due to heavy promotions.
Barneys, for instance, offered 40 percent off on its website on Thanksgiving Day, a day before it began its sales in stores. And Barnes & Noble offered 40 percent to 75 percent off online products, discounts that weren't available in store.
"Retailers are doing a good job of creating more excitement online in ways they can't do in store," Mityas says. "They're creating that excitement of, `I've got to get that special deal," that is really spurring traffic."'
It won't be clear how well retailers will ultimately fare on Cyber Monday until Tuesday. But last year, sales on the day topped $1 billion for the first time, making it the heaviest day of online spending ever.
Ahead of this week's "Cyber Monday," the NRF says nearly 80 percent of retailers plan to offer special promotions. And a record 122.9 million of Americans are expected to shop on the day, up from 106.9 million who shopped on "Cyber Monday" last year, according to a survey conducted for Shop.org.
By early afternoon on Monday, traffic was up about 37 percent year-over-year, according to Akamai, an online content delivery company. Akamai says it expects online traffic to peak at about 9 p.m.
Traffic has been up substantially since the Monday before Thanksgiving as retailers promoted online deals earlier than ever, says Lelah Manz, Akamai's chief strategist of commerce.
"There has been a huge volume of promotional activity being driven by daily deal sites, Facebook and other social networking sites," she says.