Saints fan helps disabled Giants fan stand for national anthem in viral photo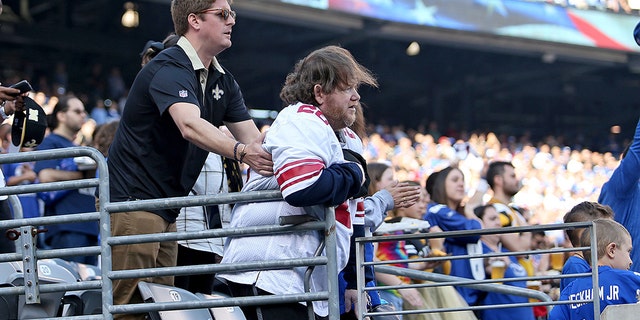 In a true display of human kindness, a New Orleans Saints fan helped a disabled New York Giants fan stand for the national anthem before Sunday night's football game.
Geordie Brower took a trip to New York over the weekend to visit his mother, Lauren, and see his hometown team battle the Giants at Metlife Stadium in New Jersey, NOLA.com reported.
As the anthem began, Brower noticed that the person in front of him, a fan from the opposing team, needed help standing. Without thinking, Brower leaned forward to help the man up.
ERIC REID, WHO SUPPORTED COLIN KAEPERNICK IN PROTESTS DURING NATIONAL ANTHEM, SIGNS WITH PANTHERS
"As it happened, I honestly didn't think anything of it. He needed help standing, and I had the ability," he told the news agency.
"I hope anyone would do that to me. I'd even do it for a Falcons fan," he added jokingly.
As of Tuesday evening, the photo had been shared more than 2,700 times and had garnered no fewer than 10,000 likes on Twitter.
Brower said he was surprised at how viral the photo had become, since helping someone in need seemed like the ultimate no-brainer. The other man in the photo hasn't been identified.
The Saints went on to defeat the Giants 33-18.
The touching moment comes as the NFL continues to grapple with fallout from some players' decision to kneel during the anthem as a protest against racial injustice and police violence.