Running death trial could hinge on 1 word from 911 recording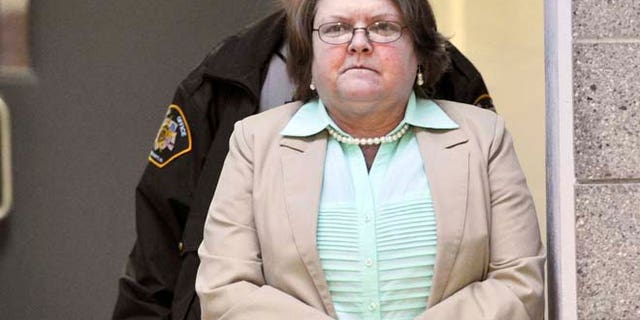 GADSDEN, Ala. – One word on a 911 recording could help decide the fate of an Alabama woman accused of making her granddaughter run until she died.
With 9-year-old Savannah Hardin lying unconscious following an afternoon of running and a 911 operator listening over the phone, Joyce Hardin Garrard asked for something -- either a cigarette or a blanket. The request, depending on exactly what she said, could be considered callousness or compassion.
Garrard, who is on trial for capital murder, says she is innocent. It is unclear whether she will testify about what happened that day in rural northeast Alabama.
The trial will continue Monday after the judge gave jurors Thursday and Friday off without explanation. Prosecutors have indicated they are near the end of their case.
On the Feb. 17, 2012, recording, played in court Tuesday, Garrard is heard in the background as the girl's stepmother, Jessica Mae Hardin, talked for more than 11 minutes with Lori Beth Beggs, a 911 operator in Etowah County.
Neighbors have testified they saw Garrard forcing the child to run and pick up sticks and firewood in the yard. Garrard was making her granddaughter run as punishment for a lie about eating candy, prosecutors said. The girl eventually collapsed and died three days later.
Hardin -- awaiting trial on a murder charge in the child's death -- made the call seeking help for Savannah.
"My daughter had a seizure," Hardin says at the beginning.
Speaking in a loud voice as Hardin talks to Beggs, Garrard is heard repeatedly saying the child's name and asking her to wake up.
"Savannah. Savannah," Garrard says in a steady voice. "Savannah, open your eyes."
Then, nearly three minutes into the recording, with Savannah still unresponsive, Garrard makes a request.
"Give me a smoke," Beggs testified the woman said.
The defense maintains she said: "Give me a throw," referring to a small blanket.
While jurors have listened to the recording, Circuit Judge Billy Ogletree refused to let them see a transcript of the audio prepared for the defense.
What the jurors believe she said could be vital. If Garrard asked for a cigarette while the girl lay before her dying, jurors could agree with prosecutors that the woman was angry and meant to kill the child by running her for hours.
If they believe the woman said "throw," jurors could see that as sign Garrard was worried and trying to help the girl. Other testimony showed that the girl was wrapped in a small blanket when firefighters and paramedics arrived.
The judge has issued a gag order that bars lawyers, witnesses and others from discussing the case publicly. Yet the importance of that one word became obvious while Beggs, the 911 operator, was on the stand.
Beggs testified that Hardin and Garrard seemed unusually calm during the call. Beggs said relatives witnessing a seizure typically are panicky.
"I've never had anyone in four years ask for a cigarette," she testified.
Defense lawyer Richard Rhea pressed Beggs on exactly what Garrard had asked for.
"Did she, in fact, say `Give me a throw?"' Rhea said.
"No. `Give me a smoke,"' Beggs responded firmly.
It's up to the jury to decide.