Report: Inadequate warning by park officials in Smokies fire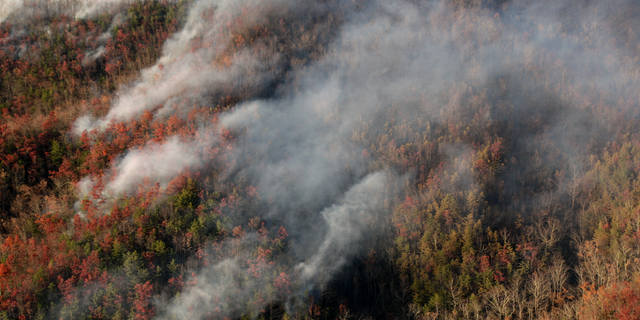 NASHVILLE, Tenn. – Insufficient warning by Great Smoky Mountains National Park officials contributed to dramatically less time to evacuate people during a Tennessee wildfire that killed 14 people in November 2016, according to a report released this week.
The outside review ordered by the city of Gatlinburg and Sevier County says reliance on limited information from the National Weather Service and park officials meant that the predicted speed and severity of the impending firestorm was inaccurate.
Winds nearing 100 mph (160 kmh) blew embers several miles (kilometers) from the park into Gatlinburg and downed power lines to spark more fires, killing 14 people and damaging or destroying about 2,500 buildings.
"More timely and accurate communications from the (park) personnel would have helped the city to prepare sooner for what was a catastrophic event," the report states.
Fighting an extremely challenging fire was made even tougher by the lack of visibility, hurricane-force winds, exceptional drought conditions, loss of communications, multiple blocked routes of egress and rapid progression of the fire, the report states.
Police, firefighters and regular citizens put forth heroic efforts to save lives in horrific conditions, but their efforts could have been helped if they had better information, according to the report.
A fire prediction model provided by the Pigeon Forge Fire Department at one point predicted it would take 19 hours for the fire to reach Gatlinburg, and instead, it took less than two. Park officials said they hadn't developed their own fire progression data since the fire began in the park, the report states.
First responders, emergency personnel and field command staff didn't know how quickly the fire was spreading until units went out and saw for themselves, according to the report.
"In retrospect, firefighting and evacuation plans would likely have been better directed and accelerated if more accurate fire location data from the (park) personnel and (National Weather Service) wind data had been used to model fire progression," the report states.
Park officials said they are reviewing the report.
"As we understand it, this review focused on the response of the city and the county to the fires outside the park," Park Superintendent Cassius Cash said in a statement. "We look forward to reading it and working with our local agencies to address any findings that help us move forward together."
Authorities have said two juveniles started the fire last year in a remote section of the park. The blaze left the park five days later. Local prosecutors dropped charges against the boys in June because other fires from downed power lines contributed to the inferno in Gatlinburg.
The fire has already spurred officials to make changes or plan for upgrades, including better radio communications, expanded warning systems, a heightened focus on clearing out dead and dying trees, and other adjustments.