Rapid Decompression Forces Plane's Emergency Landing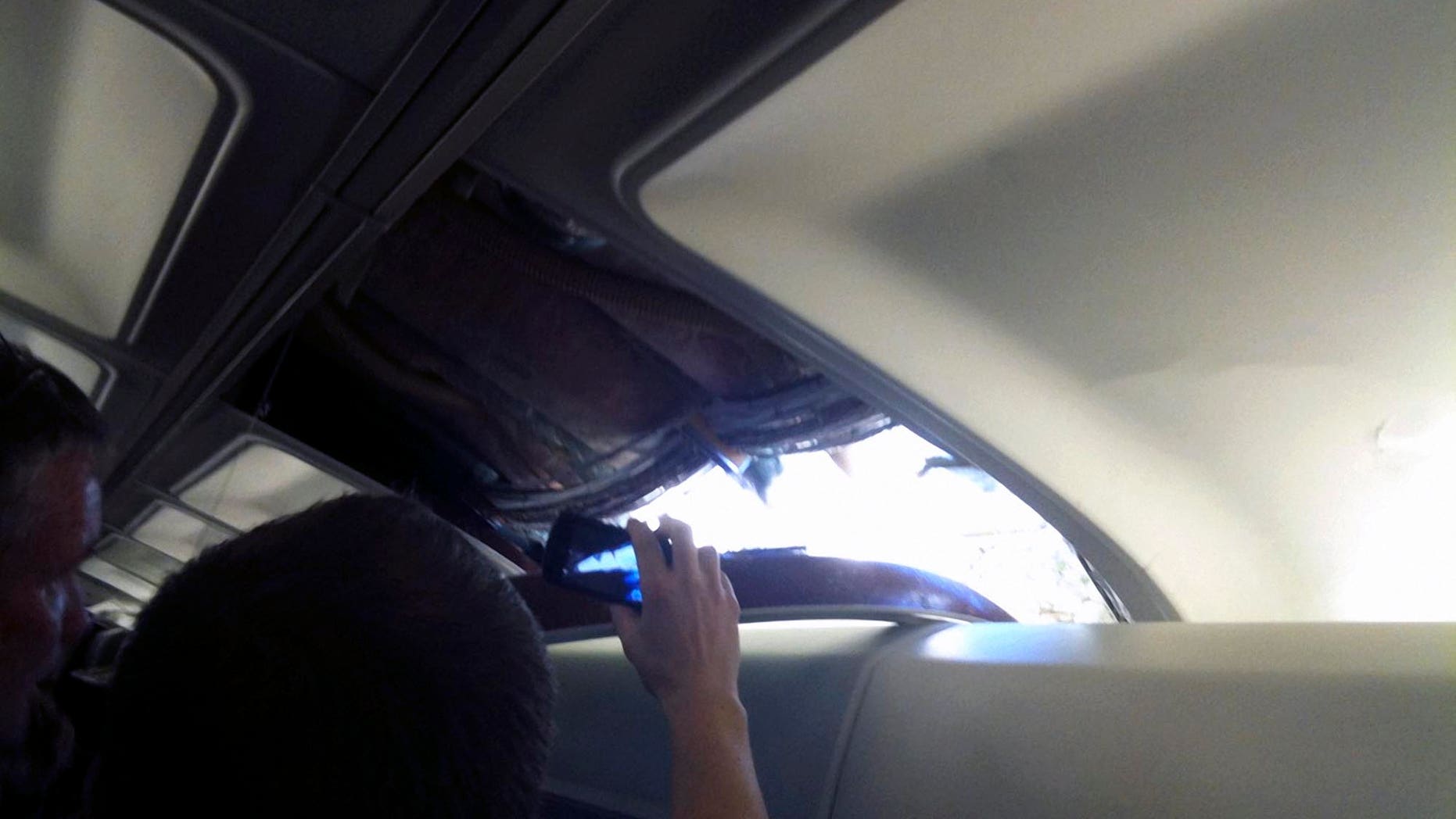 YUMA, Ariz. – A Southwest Airlines flight from Phoenix to California made an emergency landing at a Yuma military base Friday after a sudden drop in cabin pressure, federal officials said.
The National Transportation Safety Board said an "in-flight fuselage rupture" also forced the plane to make the emergency landing.
The NTSB says it will be investigating Friday's incident that led to a sudden descent and drop in cabin pressure.
Ian Gregor, a Federal Aviation Administration spokesman in Los Angeles, said the cause of the decompression wasn't immediately known. He said the pilot "made a rapid, controlled descent from 36,000 feet to 11,000 feet altitude after the incident occurred."
Some passengers aboard Flight 812 to Sacramento said a hole in the cabin caused a rapid descent.
"It dropped pretty quick," said passenger Brenda Reese, who provided cellphone photographs of the cabin damage in the Boeing 737. The pictures showed a panel hanging open in a section above the plane's middle aisle, with a hole of about six feet long.
"It's at the top of the plane, right up above where you store your luggage," Reese told The Associated Press in a telephone interview. "The panel's not completely off. It's like ripped down, but you can see completely outside... When you look up through the panel, you can see the sky."
Reese said the plane had just left Phoenix Sky Harbor International Airport when she awoke after hearing a "gunshot-like sound" in the cabin and oxygen masks dropped for passengers and flight attendants.
Officials with Dallas-based Southwest said there were no injuries among the 118 people aboard. However, Reese said "there were some people that were passing out because they weren't getting the oxygen."
She said one flight attendant's oxygen didn't work and that he fell and suffered a bloody nose.
Reese said there was "no real panic" among the passengers, who applauded the pilot after he emerged from the cockpit following the emergency landing.
Authorities said the plane landed safely at Yuma Marine Corps Air Station/International Airport at 4:07 p.m., some 150 miles southwest of Phoenix and about 40 minutes after takeoff from Sky Harbor.
Gregor said an FAA inspector from Phoenix was en route to Yuma to investigate. Messages left for the FBI were not immediately returned Friday.
Gina Swankie, a spokeswoman for Sacramento International Airport, said Southwest was sending another plane to Yuma to take the passengers to Sacramento. They were expected to get to Sacramento around 8:30 p.m. Friday, some three hours later than their originally scheduled arrival.
"I fly a lot. This is the first time I ever had something like this happen," said Reese, a 37-year-old single mother of three who is vice president for a clinical research organization. "I just want to get home and hold my kids."
Holes in aircrafts can be caused by metal fatigue or lightning. In October 2010, a cabin lost air pressure when a hole ripped open in the fuselage of a Boston-bound American Airlines flight from Miami that also had to make an emergency landing.
In 1988, a Boeing 737 blew open at 24,000 feet when a 20-foot section of the aircraft's upper fuselage ripped off. An Aloha Airlines flight attendant was sucked out of the jet and killed, and 61 passengers were injured.