Rape focuses critical attention on 'sanctuary' states
The rape of a 14-year-old girl last week in a boys' bathroom of a Maryland high school, for which two immigrants have been charged, has fueled opposition to officials making the state a sanctuary for illegal immigrants.
One suspect in last Thursday's attack is 17; the other is 18. Both were enrolled as freshman because of their weak English language skills. The two suspects, who were enrolled in Rockville's Montgomery High School, are from Central America.
Four days after the rape, Maryland's House of Delegates passed legislation to join states like California in becoming a "sanctuary state," affording illegal criminal aliens additional protections and making it more difficult to deport them or ask about immigration status.
That action has infuriated Maryland officials.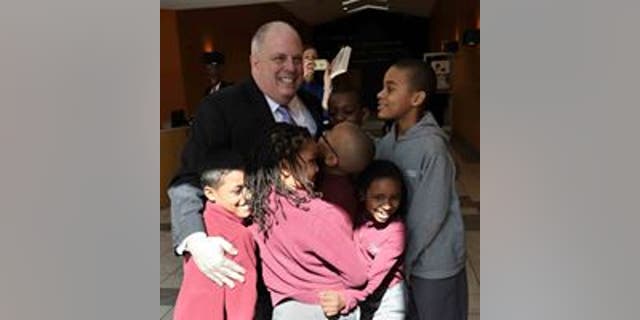 "I am outraged by the brutal and violent rape of a 14-year-old girl in a Rockville public school," Republican Gov. Larry Hogan said in a statement Tuesday. "The state of Maryland is calling on Montgomery County to immediately and fully cooperate with all federal authorities during the investigation of this heinous crime. The public has a right to know how something this tragic and unacceptable was allowed to transpire in a public school."
The legislation that passed Monday will make Maryland a sanctuary for illegal alien criminals, further endanger its citizens and interfere with state and local law enforcement's ability to cooperate with federal law enforcement, the governor said.
To no one's surprise the attack has triggered widespread revulsion outside of Maryland.
"The reason the president has made it such a priority to crack down on illegal immigration is because of cases like this," White House spokesman Sean Spicer said Tuesday.
Montgomery County, where the alleged rape took place, is on a list released this week by U.S. Immigration, Customs and Enforcement (ICE) of "Jurisdictions that have enacted policies which limit cooperation with ICE."
"When law enforcement agencies fail to honor immigration detainers and release serious criminal offenders, it undermines ICE's ability to protect the public safety and carry out its mission," said Acting ICE Director Thomas Homan.
One suspect, Henry E. Sanchez, 18, of Guatemala had been stopped by a Border Patrol agent in August 2016 in Rio Valley Grande, Texas, when he entered the country illegally from Mexico. Sanchez was ordered to appear before an immigration judge, but the hearing had not yet been scheduled.
It was not immediately clear if the other suspect, Jose O. Montano, 17, from El Salvador, was in the county illegally but county executive Ike Leggett told local press both had outstanding ICE orders.
Both were charged with first-degree rape and two counts of first-degree sexual offense. Charging documents allege that the pair dragged their female classmate into a boy's bathroom last Thursday at 9 a.m., where they allegedly raped and sodomized her and forced her to perform oral sex.
Detectives from the Montgomery County Police Department Special Victims Investigations Division arrested Montano and Sanchez after school officials reported the incident. A forensic team recovered blood and male fluids from the bathroom, court records show.
ICE has since lodged an immigration detainer against Sanchez, so ICE can take custody of him when he is released, but it is unclear whether local law enforcement will comply.
ICE did not release information on Montano.
Both Montano and Sanchez will be tried as adults and could receive a life sentence. The judge who oversaw their bond hearing refused to release them on bail, because the students are "dangerous and flight risks."
"There are pockets of aliens who move to sanctuary cities because they know they will be treated differently there," said Claude Arnold, a former U.S. Immigration and Customs Enforcement special agent in charge of Homeland Security Investigations.
"Most sanctuary cities limit the way in which local law enforcement can cooperate with ICE, or order them not to cooperate at all. So in a case like this, local law enforcement might not be able to assist ICE, adding insult to injury," Arnold said.
Officials in Montgomery County have been pushing to make the area a sanctuary for immigrants.
Last month, Rockville City Council Member Julie Palakovich Carr, a Democrat, introduced an ordinance to make Rockville a sanctuary city.
Montgomery County Executive Ike Leggett, a Democrat, does not support the measure. But in a joint statement with City Council President Roger Berliner on the website of the county's Immigrant Resource Center, Leggett said, "Understanding, tolerance, and respect are hallmarks of the Montgomery County way. Social justice for all is what we strive to achieve ..."
Jessica Vaughan, director of policy studies for the Washington, D.C.-based Center for Immigration Studies, said the county is already uncooperative with ICE when it comes to illegal immigrants like Sanchez.
"Montgomery County is not the worst, but it's pretty bad," said Vaughan. "When Northern Virginia cracked down around 2005 from 2011, many illegals moved to Montgomery County, where they knew they would be treated more leniently."