Nearly eight years ago, Rahm Emanuel, President Barack Obama's brash, f-bomb dropping former chief of staff swept to power in Chicago promising to cut down on crime and corruption and be the much-needed adult in the room to run America's third-largest city.
Fast forward to Tuesday, Mayor Emanuel, in a surprise announcement, said he would not be seeking a third term, leaving behind a legacy of record homicide levels, soaring crime rates and a deep racial divide that has polarized the Windy City.
"For the last seven and a half years I've given my all every day and left everything on the field," Emanuel said at a press conference this week. "This commitment has required significant sacrifice all around."
CHICAGO MAYOR RAHM EMANUEL ANNOUNCES HE WILL NOT SEEK RE-ELECTION
But the numbers tell a different story.
Since Emanuel took office in mid-May 2011, there have been more than 19,000 shootings in Chicago. In that time, there have been 4,000 murders. According to the Chicago Police Department, the average number of murders per year during Emanuel's administration is 541. The average number of murders per year prior to Emanuel taking office was 463.
Emanuel's surprise announcement comes as he faces harsh criticism over his handling of race relations and his response to violent crime. He's been accused of favoring Chicago's wealthier north and east sides while ignoring the crime-ridden, poverty-plagued areas south and west of the city.
RAHM EMANUEL UNDER INCREASING FIRE FOR LINKING CHICAGO VIOLENCE AND MORALS IN MINORITY NEIGHBORHOODS
His promise of cleaning up the streets when he took office in 2011 has fallen short of expectations.
"Chicago is still known as the murder capital of America," Dick Simpson, professor and director of undergraduate studies at University of Illinois at Chicago, told Fox News. "(Emanuel) has tried hard to deal with the problem but has not been successful."
The mayor's decision to step away from the political spotlight comes as the murder trial of a white police officer accused of shooting a black teenager gets underway.
Chicago police officer Jason Van Dyke is accused of killing 17-year-old Laquan McDonald. Grainy dash camera video shows McDonald writhing around on the ground after being shot 16 times.
Emanuel's team of city attorneys fought against the release of the video for more than a year until a judge in 2015 ordered it to be made public. Many activists and community leaders accused Emanuel of trying to cover-up the incident, putting the already fragile relationship between the mayor and community into disrepair.
When it was finally released, the video sparked outrage and led to widespread protests as well as calls to gut the Chicago Police Department.
Emanuel's administration was also on the receiving end of a scathing 2017 Department of Justice report that found Chicago police routinely used excessive force, violated civil rights and had racial bias against blacks.
The investigation, one of the largest in the nation, was prompted by the Van Dyke dash-cam video.
The report slammed the city and police for insufficient training and a failure to hold power-hungry officers accountable.
Jamie Dominguez, a professor of political science at Northwestern University, said: "[The] collection of these issues has greatly soured his relationship with a core constituency fundamental to his electoral success: the black community."
In 2017, Black Lives Matter as well as a handful of other groups sued the city after Emanuel backed off a pledge to allow a federal judge to oversee reforms.
"Chicago has proven time and time again that it is incapable of ending its own regime of terror, brutality and discriminatory policing," the lawsuit said. "Absent federal court supervision, nothing will improve."
Emanuel has also faced backlash for seeming to look the other way when it comes to crime in some parts of the city.
The majority of Chicago shootings take place in the city's south and west sides - areas not only marked by deteriorating neighborhoods but that also lack quick, efficient emergency care.
Last year, the number of murders in Chicago was up 47 percent versus 2010.
Even though Chicago's homicide rate is high compared to other major cities, as of Sept. 3, it has seen a 19 percent decrease from the year before. The city clocked 462 murders during the first nine months of 2017. In 2018, the number fell to 375.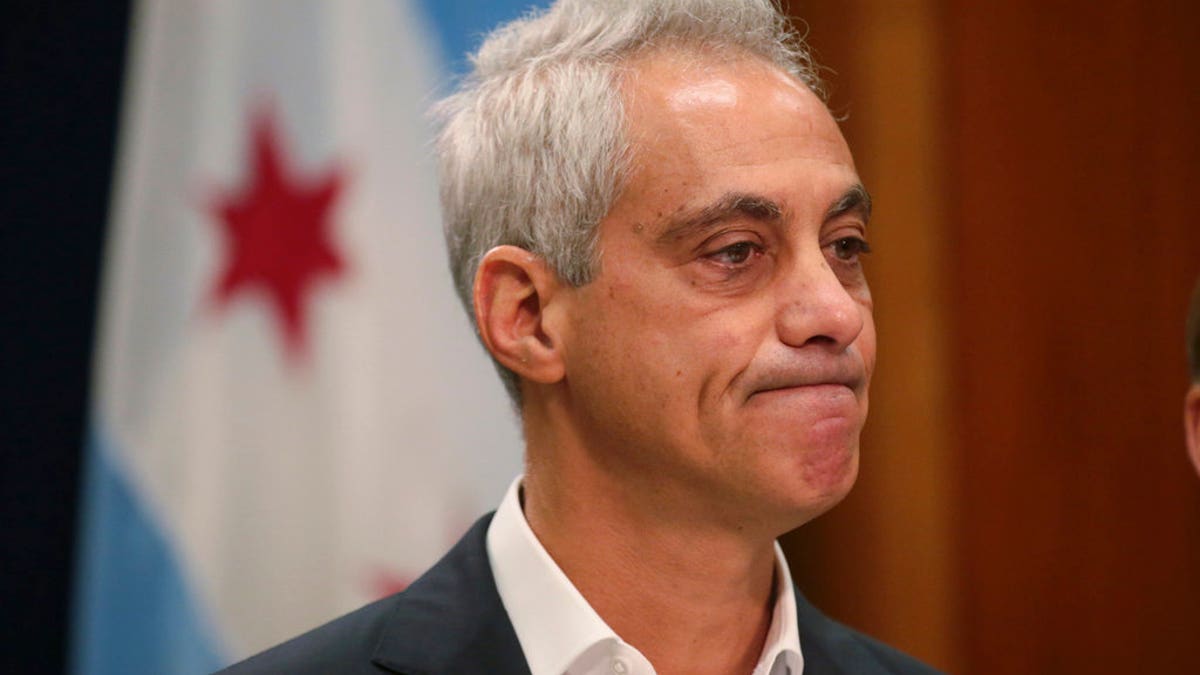 While authorities have attributed the decrease to improvements in technology as well as a coordinated effort to rebuild relationships in the community, not everyone is convinced.
PICTURE OF SNOOZING CHICAGO COP GOES VIRAL AFTER VIOLENT WEEKEND
"We can't survive another year of mayhem," Rep. Danny K. Davis, D-Ill., recently told Fox News. "The stress and strain of it is so great. Everyone seems to be on different pages and there are constant crosses and difficult situations to bear."
Widespread crime has also taken a toll on Chicago's children. Each month this calendar year, at least one minor has been shot and killed in Chicago.
According to data compiled by The Chicago Tribune, since September 2011 at least 174 people under the age of 17 have been killed while 1,665 kids have been shot.
Prior to dropping out of the race, Emanuel's political opponents took him to task for blaming a lack of morals in predominantly black and Hispanic neighborhoods for an uptick in violent crime.
Emanuel urged locals to "be a neighbor" and "speak up" to help law enforcement pursue killers, gang members and drug dealers.
After one particularly violent weekend in early August when nearly 80 people were shot, Emanuel deflected questions about police staffing and strategy. Instead, he ignited a firestorm when he said there needs to be a politically incorrect conversation about character and values.
Critics called him out for what they dubbed tone-deaf comments, in which Emanuel seemed to be blaming the victims.
Shari Runner, former president and CEO of the Chicago Urban League, deemed the remarks insensitive. "I cannot see the victims of racist policies and bigoted practices shamed by anyone who says they need to do better or be better in their circumstance. I won't accept it," Runner said
Prior to Emanuel's decision to duck out of the mayoral race, a dozen or so candidates had lined up to challenge him. After his announcement, political watchers expect that number to rise significantly.