Pulse shooter's dad Seddique Mateen's eye-raising moments, from Clinton rally attendance to hosting political talk show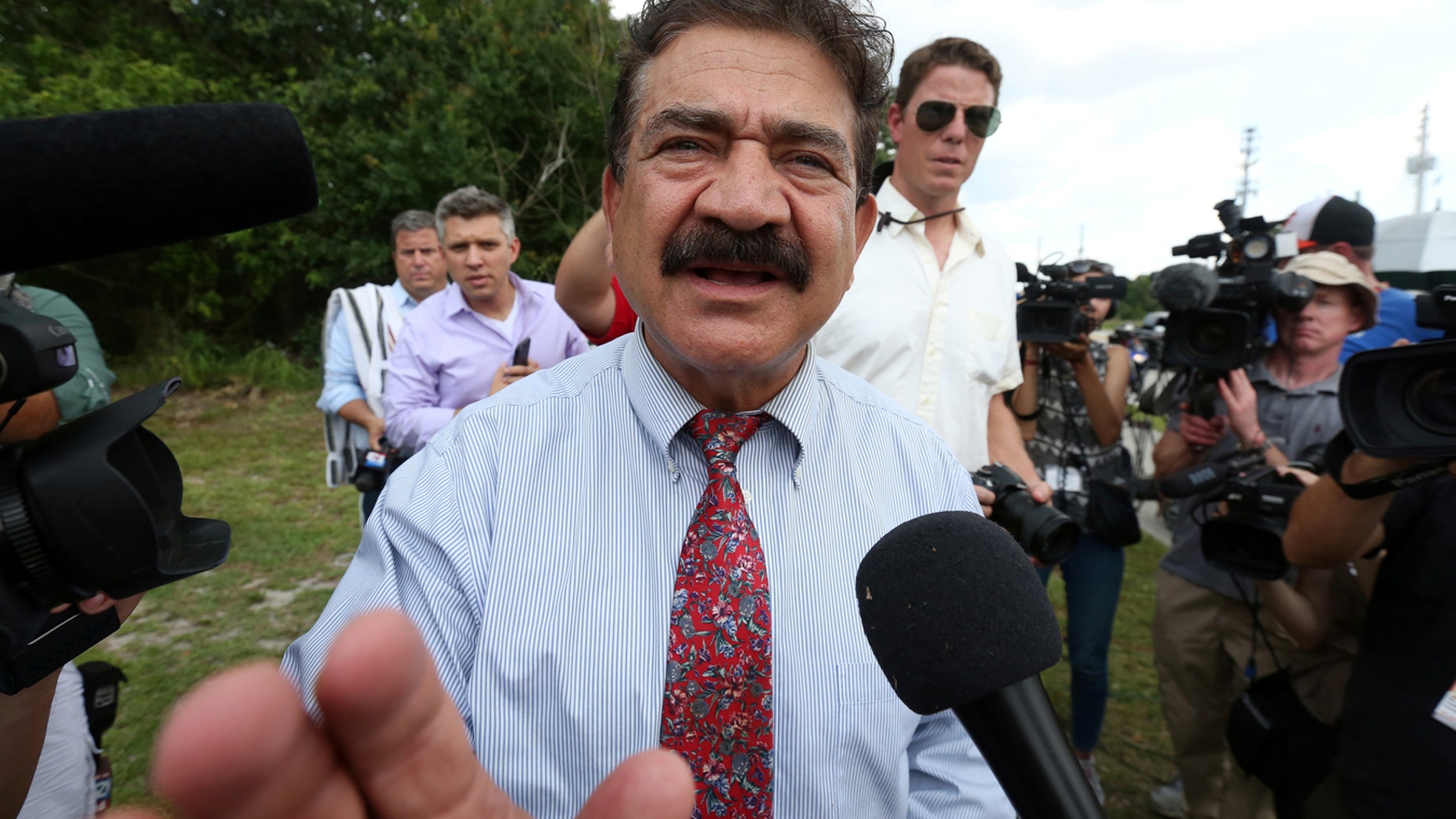 Hours after his son murdered 49 people at an Orlando nightclub, a teary-eyed Seddique Mateen stood in front of a crowd with cameras to express shock at his son's actions, saying the 29-year-old "went against my principles as a father and a U.S. citizen."
The dad arranged several media interviews in the days following the attack, welcoming cameras into his home, to discuss his son's actions. He even weighed in on his own Facebook page.
"I don't know what caused this," he said in a video posted on June 13. "I did not know and did not understand that he had anger in his heart. My son...was a good boy, an educated boy, who had a child and a wife, very respectful of his parents."
But Mateen's wife, Noor Salman, painted a very different picture, claiming she was in an abusive marriage and constantly feared for her life.
Seddique told NBC News in a June 13, 2016 interview that his son once got angry after seeing two men kissing in Miami, suggesting that may have helped trigger the attack.
"We were in Downtown Miami, Bayside, people were playing music. And he saw two men kissing each other in front of his wife and kid and he got very angry," he told the news outlet. "They were kissing each other and touching each other and he said, 'Look at that. In front of my son they are doing that.'"
Soon, the gunman's father found himself in the spotlight. Here are three things the public learned about Seddique after the deadly attack that raised eyebrows.
He was reportedly an FBI informant
Seddique was an FBI informant for 11 years before the attack, lawyers for his widow said during her trial on March 26.
Salman has been accused of obstruction of justice, as FBI agents say she lied to them in the hours after the Pulse nightclub attack, and charges of aiding and abetting Mateen's allegiance to ISIS.
"I have just received authorization to disclose the following information about Seddique Mateen," U.S. Attorney Sara Sweeney said in an email. "Seddique Mateen was a FBI confidential human source at various points in time between January 2005 and June 2016."
They said prosecutors also told them in an email that the government found evidence on the day of the attack that Seddique had been sending money to Afghanistan and Turkey, and that he had been accused of raising money to fund violence against the government of Pakistan.
He hosted a political talk show
Seddique started a religious nonprofit in 2010 called Durand Jirga, Inc., a reference to the Durand line -- the disputed international border between Afghanistan and Pakistan.
Former Durand Jirga board member Qasim Tarin said Seddique had a television show called the "Durand Jirga Show" on which they discussed issues facing Afghanistan.
Some of the shows were posted on YouTube, garnering thousands of views. Seddique told Time magazine in June 2016 he had 20 million subscribers in Afghanistan.
During one episode, a sign in the background read, "Long live the U.S.A! Long live Afghanistan. ... Afghans are the best friends to the U.S.A."
The show expressed support for the Taliban, had an anti-Pakistan slant, complained about foreigners in Afghanistan and criticized U.S. actions there, a former Afghan official told The Associated Press in 2016.
Seddique praised current Afghan President Ashraf Ghani when he appeared on the show in January 2014. However, he has since denounced the Ghani government, according to the official.
He told Time in 2016 that he was the "president of the provisional government of Afghanistan," and even posted an image on Facebook -- which has since been deleted -- of what appears to be a campaign t-shirt with a printed picture of himself sporting a suit and tie.
"My followers sent it to me and said 'put that, we want this picture of you,'" he told the magazine. "That shows our popularity."
He attended a Clinton rally months after the massacre
Two months after the attack, Seddique was spotted in the stands cheering on presidential hopeful Hillary Clinton and waving an American flag at an Orlando-area rally where she paid tribute to the Pulse victims.
Seddique's presence -- right behind Clinton -- was first noticed by WPTV in Florida. The TV station later interviewed Mateen, who held up a large, yellow pro-Clinton banner calling her "good for national security" and "gun control laws."
"The rally was a 3,000-person, open-door event for the public," a campaign official told Fox News. "This individual wasn't invited as a guest and the campaign was unaware of his attendance until after the event."
Seddique snapped photos at the event and told WPTV he received a chain mail invite to Clinton's rally, "It's a Democratic Party so everybody can join."
At the time, Seddiquq called Clinton "good for [the] United States versus Donald Trump." As for his son's actions, he said he wished his son had joined the Army and fought ISIS.
"That would be much better," he told the news station.
Fox News' Greg Norman and The Associated Press contributed to this report.