Prosecutor: Ohio mom who suffocated 3 young sons is to blame for deaths, not the legal system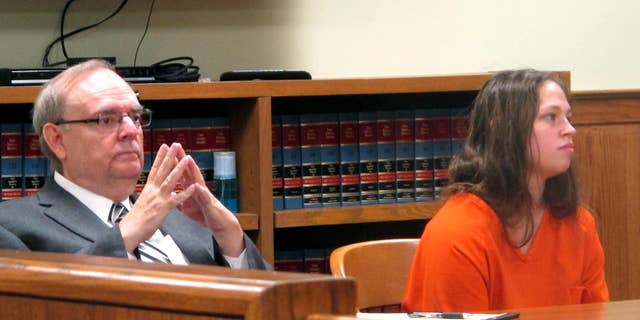 NEWYou can now listen to Fox News articles!
BELLEFONTAINE, Ohio – Three Ohio boys who authorities say were killed by their mother are dead because of her actions, not because the legal system failed them, a county prosecutor said.
Logan County Prosecutor William Goslee said the mother, 23-year-old Brittany Pilkington, was depressed.
"She knew she was depressed and she was not getting any better and of course she had all of this responsibility with these children and a lack of any kind of support group," he said Wednesday.
Pilkington is jailed on murder charges in all three deaths, including her 3-month-old son Noah, who died Tuesday, less than a week after he was returned from protective custody on a judge's order.
Goslee said those involved in the case — the court system and children's services — aren't to blame.
"Everybody that is involved in this is truly emotionally distraught — including myself, quite honestly — and it isn't because the system failed," Goslee said. "It's because this child is dead. This was not a foreseeable event."
Pilkington is scheduled to make her first court appearance Thursday morning in Bellefontaine Municipal Court.
Authorities believe she used each boy's comfort blanket to suffocate him in his crib or bed over the last 13 months, because she wanted her husband to pay more attention to her and their 3-year-old daughter, Goslee said.
He said Pilkington was dominated and isolated by her husband, Joseph Pilkington, a man nearly twice her age who had been her own mother's live-in boyfriend before they married.
Police Chief Brandon Standley said the killings happened while Joseph Pilkington, 43, was working a night shift job, and he is not a suspect.
Goslee said Wednesday authorities didn't have any evidence of a crime in the earlier deaths, and no one could have predicted Pilkington would kill her remaining son.
Authorities had not been sure what caused the death of 3-month-old Niall Pilkington in July 2014, and it was attributed to Sudden Infant Death Syndrome. After 4-year-old Gavin died in April, daughter Hailey and the newborn boy, Noah, were taken into custody with Logan County Children's Services pending an investigation.
Then on Tuesday, Noah was dead as well.
The prosecutor said Brittany Pilkington confessed after investigators noticed she had a "flat" reaction to her sons' deaths.
The Associated Press left messages seeking comment from the attorneys who represented the Pilkingtons in the protective custody case as well as Logan County Family Court Judge Dan Bratka, whose ruling sent Noah and Hailey home.
No defense lawyer has been named for Brittany Pilkington.
Melanie Engle, executive director of Logan County Children's Services, said the agency pushed as hard as it could, and called for state law to be changed to make intervention easier in cases of multiple deaths.
___
Associated Press reporters Mitch Stacy and Kantele Franko in Columbus contributed to this report.