Prosecutor, defense say no plea deal coming before trial in Las Vegas neighborhood mom slaying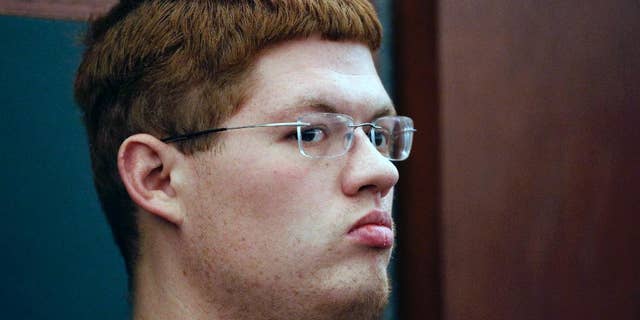 LAS VEGAS – There won't be plea deals for two co-defendants facing trial next month in the shooting death of a Las Vegas mother of four, defense attorneys and the prosecutor said Thursday.
Prosecutor David Stanton and lawyers for the accused shooter, Erich Milton Nowsch Jr., and vehicle driver Derrick Andrews acknowledged Thursday that offers were made that would avoid trial if Nowsch and Andrews would plead guilty in the case, which once appeared to be a road rage shooting but now appears to have stemmed from a series of mistakes. Neither side would say what the offers were.
Nowsch, 20, and Andrews, 27, have pleaded not guilty to murder, attempted murder, weapon and conspiracy charges that could get each life in prison without parole in the Feb. 12 shooting that mortally wounded Tammy Meyers outside her home. Each is jailed without bail pending trial.
Meyers' husband, Robert Meyers, was in the courtroom Thursday while Andrews' lawyers, Joshua Tomsheck and Roy Nelson, announced they're ready for trial Oct. 19.
Clark County District Court Judge Michael Villani set a Tuesday date for Nowsch's attorneys, Augustus Claus and Conrad Claus, to also declare they're ready.
Meyers said later that he endorsed the offers District Attorney Steve Wolfson made to Nowsch and Andrews, and wished they had taken the deals. Meyers didn't specify what the offers were.
"These guys ruined an opportunity to move on with the healing process," Meyers said. "Now I hope the jury gives them the maximum."
Outside court, Tomsheck and Nelson said they may seek a separate trial for Andrews. He's accused of driving a vehicle from which shots were fired, but faces the same charges as Nowsch because state law allows co-defendants to be held responsible for the same felonious acts if they're committed together.
"Someone committed a homicide. It's not Derrick Andrews," Tomsheck said.
Nowsch is accused of shooting at a vehicle with Tammy Meyers and her adult son inside a few blocks from the Meyers home before a short vehicle chase, and of firing another barrage of shots in a neighborhood cul-de-sac outside the Meyers home. Tammy Meyers was shot in the head. She died two days later.
The son, Brandon Meyers, wasn't wounded. Police say he returned fire with three shots from his registered handgun, but didn't hit anything.
Stanton has described the shooting as the result of a series of misunderstandings and coincidences, including Tammy Meyers' mistaken belief that the car with Nowsch and Andrews in it was the same one driven by a man who threatened her and her 15-year-old daughter about an hour earlier. That man was never found.
Nowsch lived in the neighborhood and knew the Meyers family. He told police he noticed the Meyers car cruising late at night through a school parking lot and thought it was driven by drug thugs who had threatened him and his family.
Police say Tammy Meyers was in the car, letting her daughter practice driving.
Nowsch is accused of summoning Andrews and his vehicle about the same time Tammy Meyers dropped her daughter off at home and went back out to drive around the neighborhood with Brandon Meyers.