Prosecutor: 3 bodies at home of Massachusetts man accused of sexually assaulting, torturing woman
NEWYou can now listen to Fox News articles!
Three bodies have been found at the home of a man charged with kidnapping, sexually assaulting and brutally torturing a woman with a hammer, a prosecutor said on Thursday.
Two bodies were found "in and around" the Springfield home after police responded to the house on Wednesday night, Hampden District Attorney Anthony Gulluni said.
Late Thursday, Gulluni confirmed a third body had been found on the property.
Stewart Weldon was arrested Sunday after a car chase that ended when he crashed into a police cruiser and wrestled with officers.
"Stewart Weldon who was arrested on May 27 by the Springfield Police Department does, we believe, lives at this address," Gulluni said, according to WWLP. "That is the extent of the connections we are willing to say at this point."
A woman in Weldon's car said he held her captive for a month, sexually assaulted her and beat her with a hammer and other objects, police said.
"Thank you for saving my life," the woman told officers, according to a police report. "I never thought I would get away."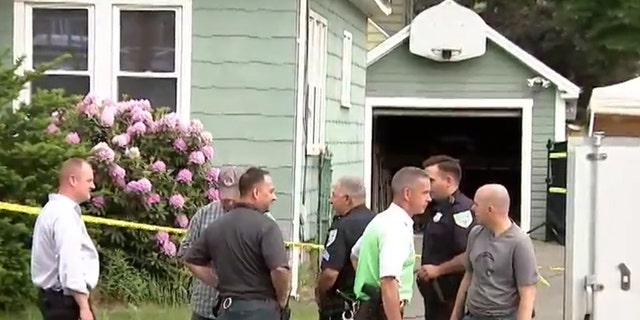 The woman was taken to a hospital with what police called "grotesque and violent" injuries, including a possible fractured jaw, stab wounds to her abdomen, marks from being hit with a blunt object and a leg infection.
She was still in the hospital on Thursday, Gulluni said.
Weldon, who's 47 years old, pleaded not guilty to a variety of charges on Tuesday, and was held on $1 million bail. His bail in several unrelated cases was revoked.
Weldon had not been charged in connection with the discovery of the bodies.
Gulluni could not confirm if Weldon is the prime suspect of the three bodies found, WWLP reported.
The DA did not disclose the names, ages or genders of the bodies.
The public defender who represented Weldon at his arraignment did not immediately return a message to The Associated Press seeking comment on Thursday.
A police department spokesman said there was no threat to the public.
The Associated Press contributed to this report.