Prosecution rests in sentencing phase of Dylann Roof trial
Dylann Roof stared forward, displaying no emotion, as more relatives of his victims told stories of lives disrupted by the 2015 massacre at Emanuel AME Church.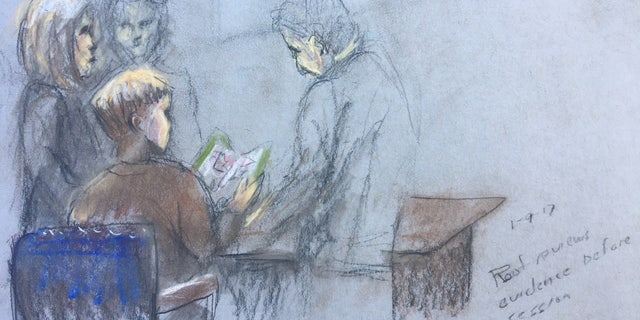 The prosecution rested its case in the sentencing phase of Roof's trial after presenting testimony from the family of Tywanza Sanders. The young man died while trying to protect his aunt, Susie Jackson, who also died in the shooting.
"I miss fishing with him. I miss him being on the road with me. I miss the debates we used to have. I miss yelling at him, telling him to put the trash out," said Tyrone Sanders, Tywanza's father. "I just wish he was there."
"Everybody at the church loved Tywanza," said Felicia Sanders, the victim's mother. "Everybody loved to see him smile. He would hug everybody."
Mrs. Sanders read from a Christmas card in which her son joked that he was working hard "to be all that I can be without joining the Army," and said that one day their family would be on TV.
"I just didn't know we were going to be on TV like this," Mrs. Sanders testified.
As relatives spoke, the prosecution showed the jury a variety of photos chronicling Tywanza's life — from a Teenage Mutant Ninja Turtles themed birthday party to his college graduation. Images of a hardworking, joyful and loving family stood in stark contrast to Roof, a white supremacist who will either face execution or life in prison for the deaths of nine parishioners at the historically black church.
According to court documents, the prosecution had initially planned on calling as many as 38 witnesses to testify. However, prosecutors rested after calling about two-thirds of those potential witnesses. U.S. District Judge Richard Gergel had urged them to pair down their list to prevent the hearing from running long.
Although this is a legal proceeding first and foremost, some of the victims' relatives also see it as a cathartic opportunity to express their grief in an official forum.
"Mr. Roof has really through his actions destroyed me and picking the pieces up is so hard," Steve Hurd told FoxNews.com.
The husband of shooting victim Cynthia Hurd said he was disappointed he was not among the witnesses called to testify.
"It wasn't about talking to Mr. Roof," Hurd said. "It wasn't about talking to the jurors, the judge or the audience. This was an opportunity for me to stand there and talk — not about my wife, not of my wife, but to my wife."
Hurd said his wife loved from her heart and likely forgave her attacker "before her body hit the ground." Hurd said he strives to forgive Roof as well, but compared the process to "moving a grand piano up a flight of stairs."
"I will get there," he said. "It probably won't be a year from today, probably not two years from today. It'll be three to five. But I'll get there."
Fox News' Chip Bell and Multimedia Reporter Terace Garnier contributed to this report from Charleston.