'Projectile' hit on vehicle window reported on I-10 in Phoenix amid spate of shootings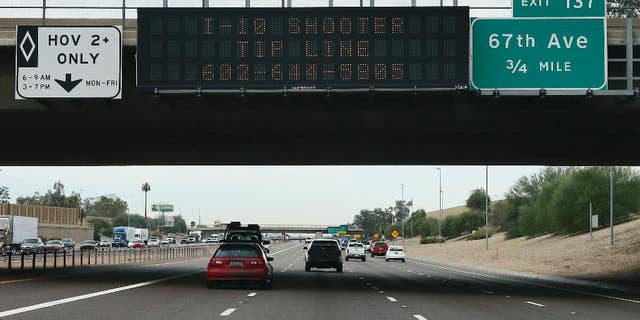 NEWYou can now listen to Fox News articles!
PHOENIX – The latest developments on a series of freeway shootings in the Phoenix area. All times local (PDT):
6:30 a.m.
Authorities in Arizona are checking out another possible shooting on a Phoenix-area freeway.
The state Department of Public Safety says officers are responding to a report of a damaged window on a vehicle that was traveling on Interstate 10 Thursday morning.
Trooper Tim Case says a "projectile" hit the window but no shooting has been confirmed.
Video shown by KNXV-TV showed an intact rear window with a visible indention.
This follows 10 shooting incidents in which the DPS says either bullets or projectiles hit vehicles in the past two weeks. All but two were on I-10.
DPS says seven of the 10 shooting incidents involved bullets and the other three were unspecified projectiles.
No serious injuries have been reported.