Power trips: Workers came from afar to help Sandy recovery efforts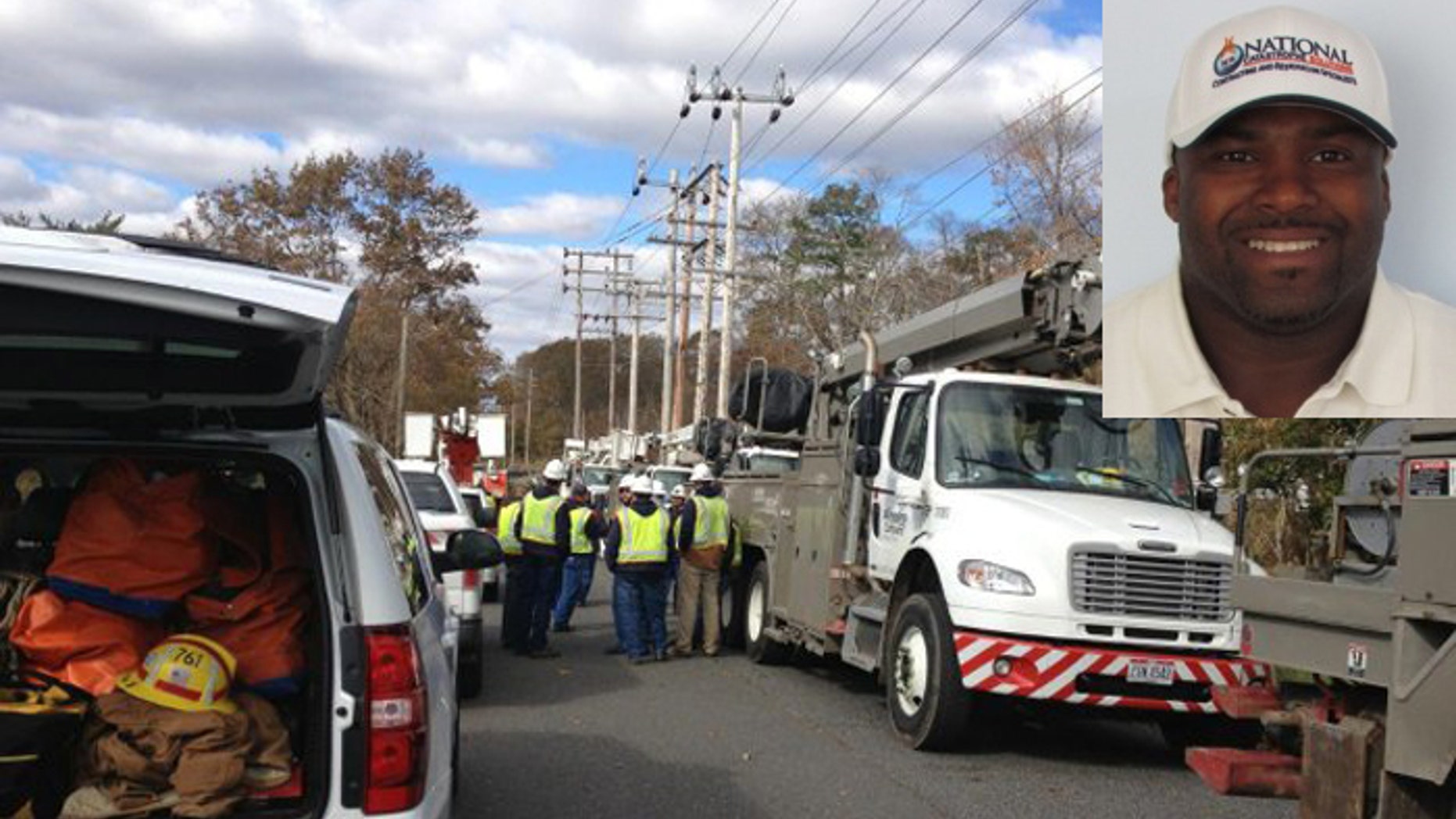 One man slept on the floor of a warehouse. A second had his jaw broken by an irate hurricane victim. And another won $100,000 on a scratch-off ticket.
All earned the gratitude of thousands.
They are the volunteers and workers from all over the nation who drove for hours and even days to come to the aid of superstorm Sandy's victims, working brutal hours and enduring tough conditions to restore power and repair homes in the devastated Northeast.
"This experience is very similar to what we see in Iraq and Afghanistan because of the level of destruction," William McNulty, a former Marine who founded a disaster response service staffed by fellow veterans after the 2010 earthquake in Haiti. "It looks like a combat zone. That chaotic environment is something that veterans are comfortable operating in."
[pullquote]
McNulty, whose company Team Rubicon still has 400 members on the ground in New York City's Rockaways, said sleeping on a warehouse floor and directing search-and-rescue operations by hundreds of military veterans brought back memories of war.
John Turner traveled 17 hours from Chicago to help storm victims clean their flooded homes and businesses. Turner and six employees of his company, National Catastrophe Solutions, helped pump water out of flooded basements in Brooklyn, N.Y., and Point Pleasant, N.J. Turner said his crew worked pro-bono for a few customers who have no insurance coverage, while performing services for others at discount. His generosity was rewarded when he bought a winning scratch-off ticket and went home $100,000 richer.
"I was like, this is not really happening," Turner, a 38-year-old father of three, said, recalling how he uncovered the prize after he ended a long day by eating pizza with his crew and buying a Championship Poker ticket.
"I am so thankful," he said. "I was in tears seeing what those people went through. ... I'm just happy that God is using us as vehicles to help other people."
In all, workers from at least 30 states converged on New York, New Jersey and Connecticut to help with the recovery effort. Most were from utility crews, such as Georgia Power, Oklahoma Gas & Electric, Clark Public Utilities, in Columbia, Wash., and even Hydro-Quebec, of Canada.
There were also state troopers from as far away as Mississippi, FEMA workers from all around the nation, volunteers from the American Red Cross, the Salvation Army and other nonprofits and countless workers from smaller companies who dropped what they were doing back home to answer the call..
For utility workers who had the all-important task of restoring power to millions of residents who endured days and even weeks of darkness, local utilities turned to mutual assistance agencies, which locate and help deploy available utility crews and equipment to repair lines, erect poles, trim trees and whatever else needs to be done to get the power back on. The power companies, knowing they could be on the receiving end of out-of-state help the next time disaster strikes, forgo any profit, billing the recipient utilities at cost once the crisis is over.
Utility crews were hailed as heroes in most quarters, but not all. There were scattered reports of teams being pelted with eggs by irate and powerless customers. One out-of-state utility worker, John Applewhite, was punched by an ungrateful storm victim on Long Island.
Applewhite, 34, of Lakeland, Fla., was attacked by an unidentified man outside an East Hempstead, N.Y., restaurant after working a 16-hour day helping the Long Island Power Authority restore electricity.
"He gave me no signs of anything aggressive. He was in a nice vehicle, dressed fairly nice from what I could tell," Applewhite told Fox affiliate WNYW. "Just as soon as I got within arm's reach of him, he decked me."
But the attack -- which cracked Applegate's cheekbone, broke his jaw and required him to have reconstructive surgery -- won't keep him from lending a hand to those in need, he said.
"I'm not going to let it get me down," he told the station. "I enjoy what I do and I'm not going to let one person spoil that for me. I enjoy helping people out."
Others said rants from angry homeowners were drowned out by offerings of doughnuts, coffee, pizza and, most of all, thank yous.
Chad Parks and Merrill Hammett, utility workers for Alabama Power, told the Newark, N.J., Star-Ledger they felt welcome from the moment they arrived in New Jersey.
"I love it up here," Parks told the paper. "The people have been very gracious and very understanding. They have also been very kind to us, too."