Poll: Half think US at high risk of terror attack, yet fewer are closely following airstrikes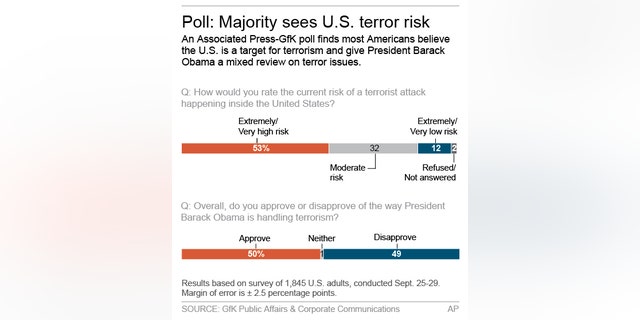 NEWYou can now listen to Fox News articles!
WASHINGTON – Half of Americans think there's a high risk of a terrorist attack on U.S. soil, yet only a third are closely following U.S. airstrikes against Islamic extremists in the Middle East.
That's according to a new Associated Press-GfK poll that surveyed 1,845 adults online last month.
Two-thirds said they favor the U.S. air offensives. And the poll didn't show an overwhelming opposition to the idea of going further and putting boots on the ground in either Iraq or Syria — something President Barack Obama says he has no plans to do.
A little more than a third said they were opposed to sending ground forces, and about one in four said they neither favored nor opposed it.