Police Won't Boot Protesters From Wis. Capitol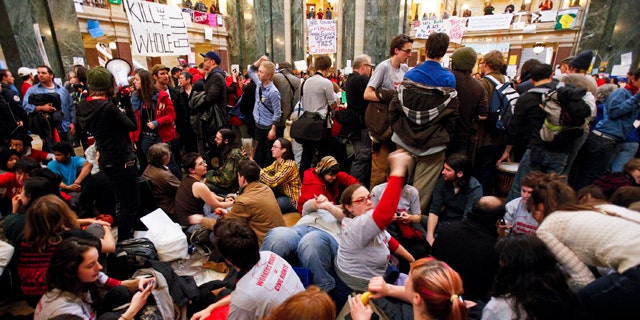 NEWYou can now listen to Fox News articles!
MADISON, Wis. – An occupation of the Wisconsin Capitol by protesters fighting efforts to strip public workers of union bargaining rights carried on Sunday after police decided not to forcibly remove demonstrators and end a nearly two-week-long sit-in.
The state agency that oversees the Capitol asked the throngs of demonstrators who have camped out inside the building since Feb. 15 to leave by 4 p.m., saying the building was in dire need of a cleaning.
But in the hours before the deadline came and after it passed, it was clear most protesters did not intend to leave voluntarily and police had no immediate intention of forcing them to go.
Late Sunday night, Wisconsin Capitol Police Chief Charles Tubbs said no demonstrators would be arrested as long as they continue to obey the law.
"People here have acted lawfully and responsibly," Tubbs said. "There's no reason to consider arrests."
Tubbs said demonstrators who have occupied all three floors of the Capitol will have to relocate to the ground floor. He added that anyone who leaves the building will not be allowed back in, although police will allow union officials to bring food into the building for the protesters.
Demonstrators began camping out inside the normally immaculate Capitol two weeks ago in an effort to fight legislation proposed by Wisconsin's new Republican governor, Scott Walker, that would strip most of the state's public employees of the right to collectively bargain.
Labor leaders and Democratic lawmakers say the bill is intended to undermine the unions and weaken a key base of Democratic Party voters.
Walker argues the Republican-backed measure would help close a projected $3.6 billion deficit in the 2011-13 budget, and that freeing local governments from having to collectively bargain with public employee unions would give them the flexibility needed to deal with forthcoming budget cuts.
The proposal stalled in the state Senate when its 14 Democratic lawmakers fled the state for Illinois, leaving the legislative body one vote short of a quorum. The Democratic senators have vowed to stay away from Wisconsin for as long as it takes.
One of the Democrats, Sen. Lena Taylor, tweeted her support to the protesters who remained: "Thank you for exercising your 1st amend right - I'm glad my actions give you opportunity to stand/sit/express yourself!"
Authorities had planned to reopen the Capitol on Monday at 8 a.m. after Sunday's closure. But David Vines, a 19-year-old freshman at the nearby University of Wisconsin-Madison, worried that any lost momentum would be difficult to recapture.
"It's so difficult to organize something like this. Any break to the momentum could be a cut to morale," Vines said. "I hope I'm wrong but I think the occupation will die."