Police wanted to arrest prep school deans in sex abuse case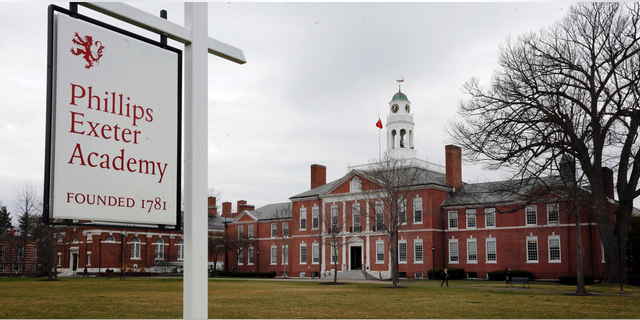 NEWYou can now listen to Fox News articles!
EXETER, N.H. – Police recommended two deans from an elite prep school be arrested for failing to properly report allegations a male student groped a female classmate, a police report shows.
The November 2016 state police report, obtained Tuesday by The Associated Press, shows arrest warrants were prepared for Phillips Exeter Academy's Arthur J. Cosgrove and Melissa D. Mischke.
The school is among several in New England that have been the focus of sexual-assault allegations.
Cosgrove and Mischke were accused of failing to contact the Department of Health and Human Services after a 17-year-old student told them of being attacked in 2015 by 18-year-old Chukwudi Ikpeazu, of Parkland, Florida, in a school church basement.
Prosecutors dropped sexual-assault charges against Ikpeazu in June. Ikpeazu's attorney, Richard Samdperil, said at the time that he maintained his innocence.
The warrants for the deans on misdemeanor charges of violating state reporting law were given to the Rockingham County attorney's office. The New York Times, which first reported the story , said the deans were not charged.
In a statement late Tuesday, the deans said that based on the information reported to them in 2015, they "did not believe, in good faith, that a reportable offence had occurred." They said, if they had, they would have reported it as they "had always done and continue to do to this day."
In a letter sent to alumni, the school said the deans "cooperated fully" during the investigation.
"The prosecutor decided that charges were not appropriate, which is why the warrants remained in a file," the letter said.
Rockingham County District Attorney Patricia Conway did not return a call seeking comment.
In September, the school reached an agreement with police saying suspected acts of sexual abuse involving children will be reported to police and to the state Division of Children, Youth and Families.
The response of the two deans is likely to embolden critics who have long accused the school of mishandling abuse cases. In this case, the school came under fire after the campus minister, the Rev. Robert Thompson, urged the 17-year-old to reconcile with Ikpeazu and asked him to do "penance" by taking her weekly batches of his bread, which he baked and sold on campus.
Michael Whitfield Jones, an alumnus from New York who has raised awareness about the school's handling of sexual-abuse cases, said the two deans should "be removed."
Concerns about sex abuse at Exeter were first raised following revelations in March 2016 about former teacher Rick Schubart, who was forced to resign in 2011 after admitting sexual misconduct dating to the 1970s. Then, in April, another teacher was fired amid allegations he had sexual encounters with a student decades ago.
Soon after, a former admissions officer turned himself in to police over allegations he sexually assaulted a 14-year-old who was visiting the school in 1973. In May, Arthur Peekel pleaded guilty to sexual assault in the case and registered as a sex offender.
Those cases prompted the school to launch its own investigation, leading to a report in which it identified five more former staff members accused of abuse.
A law firm commissioned by Phillips Exeter identified four teachers and a psychologist accused of sexually inappropriate behavior involving eight students from 1966 to the 1980s.
Three of the accused have died. The other two were barred from campus.
___
This story has been corrected to show warrants were given to Rockingham County, not Rocking County.