Police took 72 minutes from first emergency call to reach Las Vegas shooter
The Las Vegas gunman's exact location took police 72 minutes to reach after the first 911 call.
Police received the first 911 call regarding Sunday's shooting at the country music concert at 10:08 p.m. local time, NBC News reported. By the time, Stephen Paddock was done shooting, at least 59 people were dead and 515 injured.
Officers began their search for the gunman following the call and responders discovered the gunfire was coming from a window of the Mandalay Bay hotel-casino after seeing muzzle flashes, dispatch tape showed, The Mercury News reported.
23 FIREARMS FOUND IN MANDALAY BAY HOTEL ROOM OCCUPIED BY LAS VEGAS GUNMAN
Police began searching the hotel's 29th floor before determining the gunman was on the 32nd floor, NBC News reported.
Authorities, however, eventually located the shooter due to the large amount of smoke from the gunfire, The Washington Post reported.
The SWAT team utilized the alarm activated by the smoke to determine Paddock's location. But it still took SWAT some 20 minutes from the time they arrived at the hotel to pinpoint the exact room Paddock was located in, according to The Post.
The Washington Post reported if the alarm did not go off, the SWAT team would have had to search all 45 floors of the hotel.
LAS VEGAS SHOOTING: REMEMBERING THE FALLEN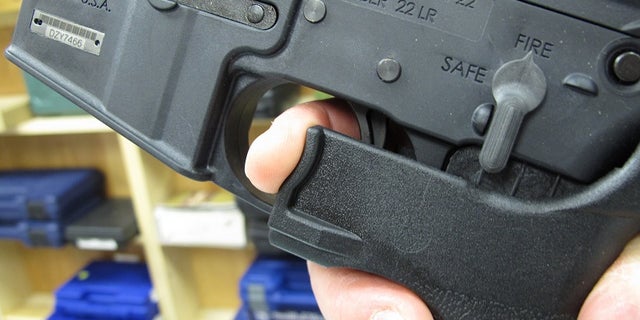 When first responders got to the hotel room, Paddock shot through the door, striking one of the hotel's security guards in the leg. SWAT team members then used an explosive device to force the door open into the hotel room but found Paddock had committed suicide.
Investigators found 23 guns – some with scopes – in the hotel room where he had been staying since Thursday. Paddock knocked out two of the room's windows to create snipers perches he used to rain bullets on the crowd of 22,000 some 500 yards away.
U.S. officials said Paddock had two "bump stocks" that can be used to modify weapons to make them shoot rapid-fire.
Authorities found 19 more guns at Paddock's residence, explosives and thousands of rounds of ammunition. His motive was not immediately clear.
The Associated Press contributed to this report.