Wrong-way driver shot, wounded by police on Bourbon Street in New Orleans
Fearing a wrong-way driver was about to hit a group of tourists in New Orleans, police fired at the suspect Thursday night, reportedly striking him once in the abdomen.
Video from the scene along the city's famed Bourbon Street shows the suspect, alert and being carried away in the back of an ambulance. He did not appear to be handcuffed. The unidentified suspect had failed to comply with police attempts to stop the vehicle, according to reports.
Monroe Dillion with the Louisiana State Police told reporters on the scene that "one subject" was shot by officers in the 200 block of Bourbon Street around 7 p.m. after witnesses reported seeing the man driving erratically along the tourist-filled street.
"He was driving down the curb, he wasn't listening," one witness told FOX 8 of New Orleans. "He was driving crazy and about the time he got to the end of the street, there was a big crowd gathered at the end getting ready to come across this way and I thought immediately that he was going to hit some people.
"He was driving crazy ... I thought immediately that he was going to hit some people."
NEW ORLEANS BOURBON STREET SHOOTING LEAVES 1 DEAD, 2 INJURED
"Then we heard the pop of the gun and the window shattered and we saw that the officer had to actually shot to stop this guy."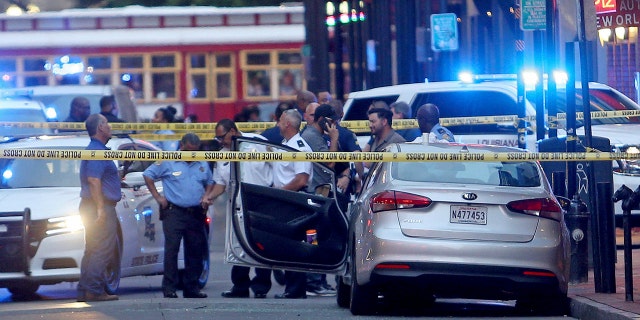 Police released a statement saying troopers helping close traffic lanes in the French Quarter saw a car heading toward a group of drivers after making an illegal turn.
CLICK HERE TO GET THE FOX NEWS APP
No one else was injured in Thursday night's shooting. The driver was in stable condition at the hospital where he was being treated for his wounds, New Orleans Emergency Medical Services spokesman Jonathan Fourcade said.
The Associated Press contributed to this report.