Police search for man who stabbed 7-year-old girl at Ohio school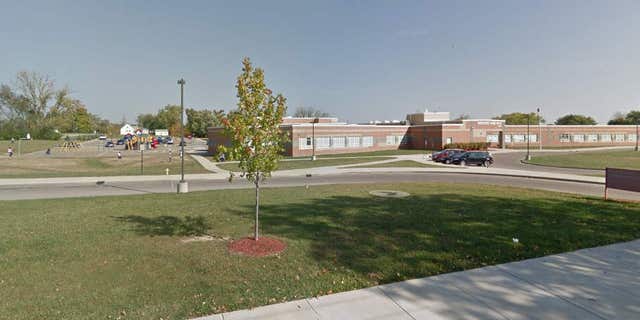 NEWYou can now listen to Fox News articles!
Authorities in Ohio are searching for a man who is suspected of stabbing a 7-year-old girl on a school playground during recess Friday, leaving her seriously injured.
Dayton police said a 2nd-grade student was stabbed by a stranger while playing on the swings at the World of Wonder school. According to WDTN-TV, the girl remains in critical condition at Dayton Children's Hospital.
Police describe the attacker as a black male between the ages of 18 and 20 and a little less than 6 feet tall, wearing athletic shorts and a beige or green sweatshirt over an orange shirt.
Charmine Blunt, a parent of one of the students at the school, said she was waiting inside the gym when she heard yelling and screaming outside.
"All of the sudden we just hear the kids screaming and running," Blunt said. "We were like what's going on what's going on. And they said a little girl got stabbed so we all run out here to see what's going on and it was a guy with some blue shorts on."
Many neighbors in the area told WDTN-TV they are in shock over the stabbing.
"I can't even imagine someone coming on the school ground just stabbing a kid a 2nd grader," Cassandra Beamon said. " That blows me away."
Dayton Public Schools spokesman David Lawrence said the school took immediate action to protect other students in the vicinity of the attack.
"The school was immediately placed on lock-down." Lawrence said. "Safety and security personel immediately reacted from our other surrounding schools and were on site to help support."
A motive for the stabbing wasn't clear. Police didn't publicly identify the victim, who initially had been reported to be an 8-year-old girl.
Dayton schools spokeswoman Jill Moberley told the Dayton Daily News that the security guard who is usually in the school wasn't there Friday. She said two guards quickly responded to the scene from a high school two blocks away.
In a note to parents of World of Wonder students after the attack, Principal LaDawn Mims-Morrow said the school will have counselors available to students on Monday as needed and will have extra security when the children are outdoors during the coming schooldays, the newspaper reported.
Police are urging anyone with information about the attack to call Dayton police at 333-COPS or Crime Stoppers at 222-STOP.
The Associated Press contributed to this report.