Police say teenage neighbor is suspected in Las Vegas road-rage killing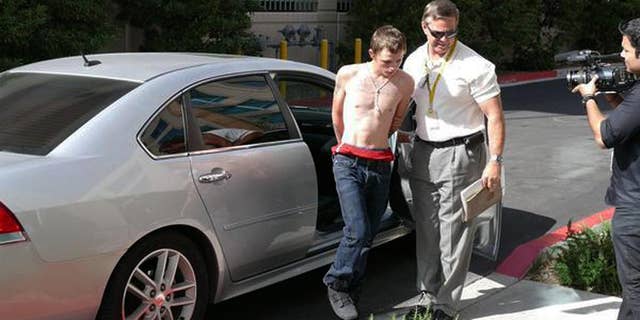 LAS VEGAS – Police took an important step toward solving the mystery surrounding the killing of a Las Vegas mother outside her home, arresting a teenage neighbor who had a history with the family that reached a boiling point the night of the shooting.
Erich Nowsch, 19, was arrested on suspicion of murder Thursday after SWAT teams surrounded his home a block away from the residence of victim Tammy Meyers. Las Vegas police Capt. Chris Tomaino said detectives believe Nowsch was the gunman. He was arrested on a murder warrant, but not been formally charged.
Tomaino said police are seeking a second suspect.
Police and the family of the victim have characterized the case as a road rage altercation that escalated into the deadly encounter a week ago. The exact circumstances of the fight remained unclear, but the family knew the suspect said Robert Meyers, the victim's husband.
He said Tammy Meyers took on a nurturing role for Nowsch, giving him money and food and urging him to dress properly.
"We know this boy," Robert Meyers said. "I couldn't tell you this before. He knew where I lived. We knew how bad he was but we didn't know he was this bad."
The case has received significant attention since police initially said Meyers was killed by an angry driver who followed her home after she gave her teenage daughter a driving lesson.
She was removed from life support on Valentine's Day as police hunted for a suspect, and donations for her funeral costs quickly poured in to a fundraising site.
The sympathy morphed into skepticism and the fundraising site was shut down after police revealed that Meyers was not followed home, and instead dropped her daughter off and picked up her 22-year-old son, armed with his 9 mm handgun, to try to confront the driver who had frightened her earlier.
They went looking for the driver, followed the vehicle and eventually went home. The silver car then showed up outside the Meyers' home and a shootout occurred, police said. The mother was shot in the head outside the home.
Brandon Meyers, 22, said this week he fired back to protect his family.
"Everyone can think what they have to think," he said at a Tuesday night vigil. "I did it for a reason. And I'd do it for anyone I love."
Melissa Mours, who lives next door to the suspect, said several people showed up at her neighbor's house this week and knocked on the door, including at least one Meyers family member.
It's still not clear if Nowsch was driving the car involved in the altercation with the family. Mours said she didn't think he had a car or drove.
Earlier, as authorities worked to coax the suspect to surrender, Robert Meyers arrived and was emotionally distraught as he tried get close to the home that police had surrounded.
As he walked past the yellow police tape, he was stopped by a police officer who tried to calm the man down.
"It's OK," the officer could be heard telling him.
"No it ain't OK!" the husband shouted back, his voice breaking up.
The officer asked the man to step back behind the yellow tape, and he stormed off past reporters.
"Are you all happy? You made my wife look like an animal," he told reporters. "There's the animal, a block away!"
He said outside his home later Thursday that his wife spent countless hours "consoling this boy."
"She fed him, she gave him money, she told him to pull his pants up and be a man," Robert Meyers said.
Neighbor Brian Atkinson said he was awakened at about 11:30 a.m. by bullhorns and the sound of a helicopter as police showed up to arrest the suspect.
"They were calling his name and telling him to come out. That they had the house surrounded and they weren't going to hurt him," said Atkinson, a 57-year-old former police officer. "They told him they weren't going to go away."