Police release new video of suspect in killing of onetime George H.W. Bush doctor
Houston Police released new surveillance video Monday of a suspect in the murder of a prominent cardiologist who once treated former President George H.W. Bush.
Authorities posted the video on social media and said it showed the suspect riding a bicycle in a neighborhood moments after Dr. Mark Hausknecht was gunned down while riding his own bike to work on the morning of July 20.
The footage shows a person with a ball cap riding a bicycle. Authorities have described the suspect as a white or Hispanic man wearing a short-sleeved polo shirt and khaki shorts.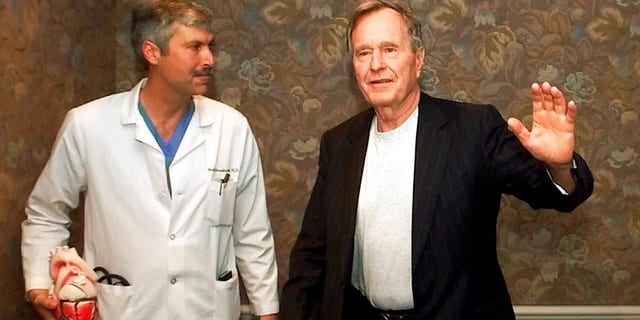 Last week, Houston Police Chief Art Acevedo told reporters there was a "high probability" that Hausknecht was targeted by the gunman. Investigators say the shooter rode past Hausknecht before turning around and firing.
The images released Monday are the latest in a series of photos and videos that have been made public by authorities, including a sketch.
In 2000, Hausknecht treated Bush for an irregular heartbeat after the 41st president complained about lightheadedness. After Hausknecht's death, Bush called Hausknecht "a fantastic cardiologist and a good man."
"I will always be grateful for his exceptional, compassionate care," Bush added. "His family is in our prayers."
Anyone with information is asked to contact the Houston Police Department Homicide Division at 713-308-3600.
The Associated Press contributed to this report.