Police investigating arrest of black teen selling water bottles at Philly zoo: report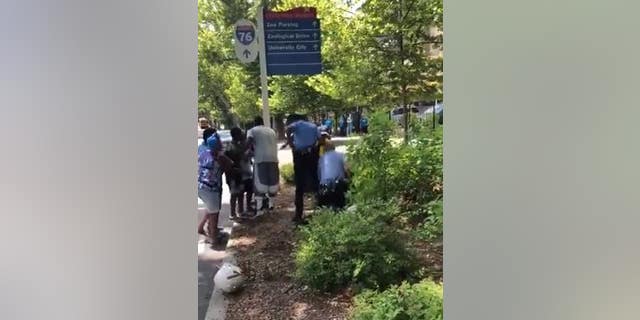 Authorities in Philadelphia are reportedly investigating a video that appears to show police struggling to arrest a black teenager who was allegedly selling water bottles outside the city's zoo.
The video from last Thursday was posted on Facebook and appears to show an officer tossing the 14-year-old to the ground while a group of children and adults can be heard yelling.
"No! Don't do that, y'all," the person recording the video can be heard yelling. "Don't do that!"
A public safety officer, who had been working to disperse the group for soliciting money from customers, was the one who flagged down police, a spokeswoman for the zoo said.
The children were allegedly selling water bottles to raise money for a local football team, according to FOX 29. Police sources told the station that they doubted that the players were selling for the team, and they did not have a permit.
The same group has stirred trouble in the past, according to a zoo spokeswomman. The spokesman said the group threw rocks and harassed a female public safety officer.
She also noted that it's standard practice to ask anyone engaged in commercial or aggressive behavior to leave.
A teenager and an adult were cited for disorderly conduct.
The police have since launched an internal investigation following complaints from the community to determine whether the officers' actions were appropriate.
The Associated Press contributed to this report.