Police find 2 bodies in Detroit medical building after shooting, fire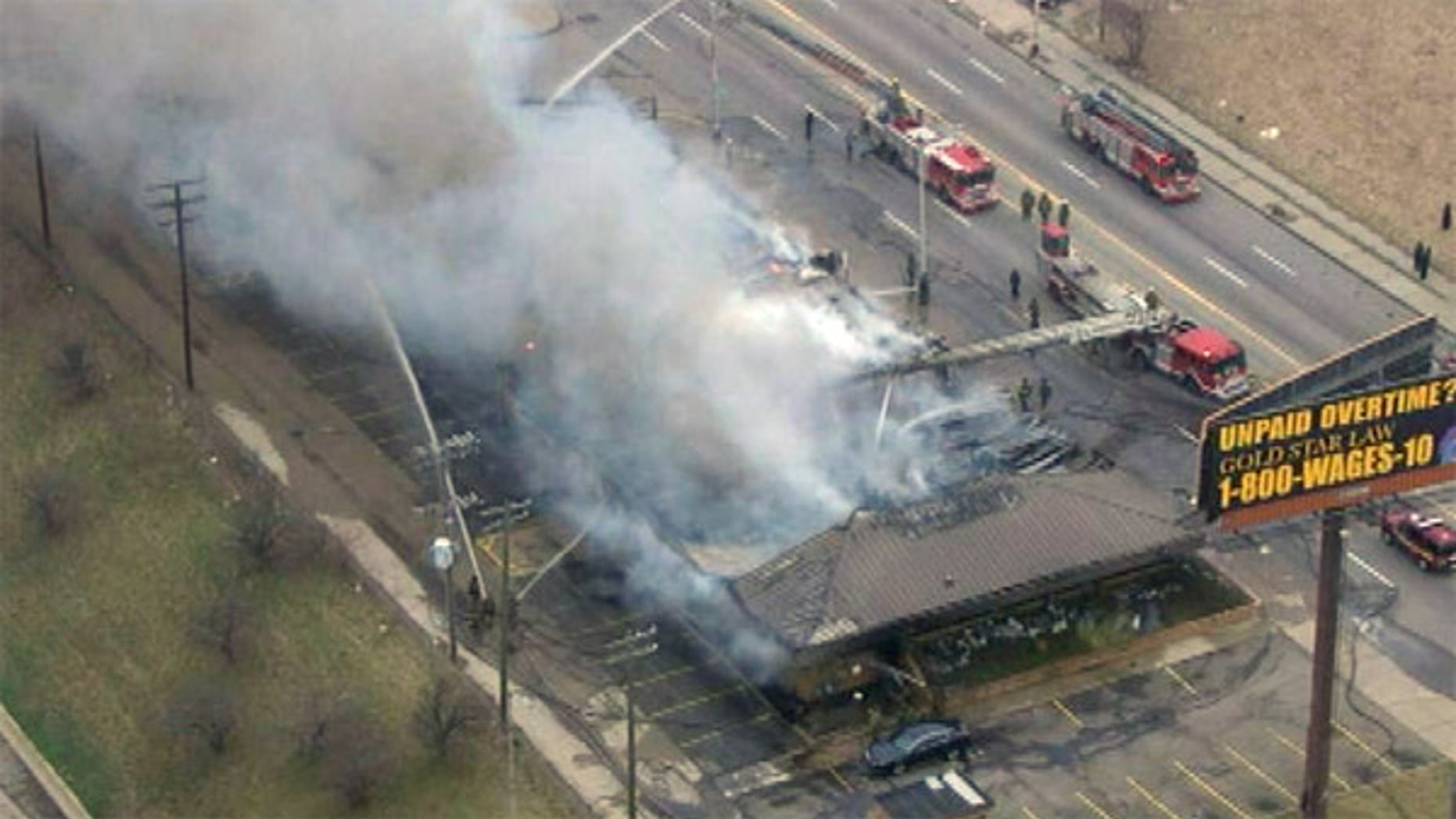 DETROIT – Police say they have recovered the bodies of a man and a woman from a Detroit medical facility where shots were fired Tuesday shortly before the building was burned to the ground.
Police have not identified the bodies, but Antha Williams-Hill told The Associated Press earlier Tuesday that police were searching for her 35-year-old daughter, Sharita Williams.
They also were searching through the collapsed structure for the man believed responsible for the shooting and for intentionally setting the blaze at Park Medical Centers.
Police were searching through the collapsed structure for Sharita Williams and the man believed responsible for the shooting and fire.
Detroit police homicide inspector Dwane Blackmon said earlier on Tuesday one of the people missing is believed to be a woman who worked at the medical center on the city's west side.
Blackmon said the other missing person is a man who entered the building Tuesday morning with a gun.
The two may have been romantically involved, sources told MyFoxDetroit.com.
Antha Williams-Hill said that her daughter, Sharita Williams, is the missing woman. Williams is a medical assistant at the office.
Blackmon told the Associated Press he cam't release names or provide details of the morning incident.
The suspected gunman may have been a recently fired maintenance man, sources tell MyFoxDetroit.com. He reportedly took Williams, and several others hostage.
Sources told the station that the suspect reportedly released everyone but Williams.
The owners of two businesses inside Park Medical Centers said they were told by staff that a fired maintenance worker went inside about 9 a.m. Tuesday and waved a gun around.
A security guard yelled out that the former maintenance worker had taken "Sharita and is shooting at other people in the building," said Dr. Stuart Kirschenbaum, a podiatrist who operated his private practice from the building for about 30 years.
"Everyone called the police and we started running," he said. "And before you knew it, we saw fire coming from (a) clinic down the hall. Then we started seeing smoke coming from the end of the building."
Dr. Kim Logan-Nowlin, a clinical psychologist, said she was driving in to a 9:10 a.m. appointment when a member of her staff called and said: "Kim, the building is on fire. They're shooting."
Logan-Nowlin told reporters that the man seen with the gun was the former maintenance worker.
Williams-Hill said her daughter had been working for the past year and a half as a medical assistant at one of the Park Medical Centers offices and that she had been in a relationship with the building's maintenance worker until recently breaking it off.
"He did a lot of stuff and she was trying to get away from him," Williams-Hill said. "She moved to Southfield to get away from him."
Southfield is one of a number of inner ring suburbs surrounding Detroit.
Police and arson investigators were interviewing people who worked in the building and relatives of Sharita Williams and Myron Williams.
By 10:30 a.m. Tuesday it was clear that little if anything could be saved from the rapidly burning building.
Kirschenbaum, state boxing commissioner from 1981-1992, said a collection of Joe Louis memorabilia he kept from the sport likely was destroyed by flame, smoke and water. Boxing gloves, personal letters and photos were among the items lost, and Kirschenbaum estimated its value at about $100,000.
"It's gone," he said.
Click for more from MyFoxDetroit.com.
The Associated Press contributed to this report.