Police chief fired in wake of Trayvon Martin shooting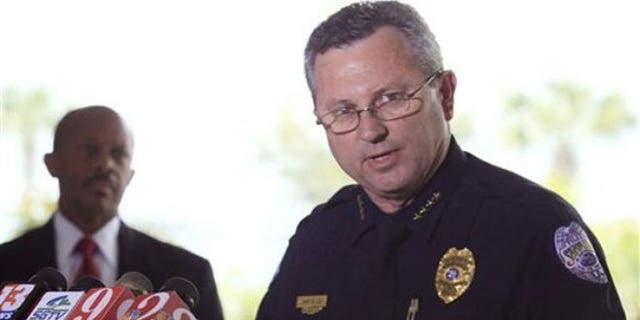 NEWYou can now listen to Fox News articles!
Sanford Police Chief Bill Lee has been fired in the wake of the Trayvon Martin shooting, sources inside the Florida city's government tell MyFoxOrlando.com.
Lee was previously serving as police chief but was placed on administrative leave after Sanford officials rejected a resignation letter he submitted in April.
Sanford city manager Norton Bonaparte issued a statement Wednesday night saying the decision to ax Bill Lee, who has been on administrative leave, was taken in a bid to resolve a divided community.
"After much thoughtful discussion and deep consideration for the issues facing the City of Sanford, I have determined the Police Chief needs to have the trust and respect of the elected officials and the confidence of the entire community," Bonaparte said.
"We need to move forward with a police chief that all the citizens of Sanford can support. I have come to this decision in light of the escalating divisiveness that has taken hold of the city."
Though Lee's spokeswoman Sara Brady disputes the reports of his firing. She said earlier Wednesday evening that the police chief was unaware he had been officially terminated.
"Chief Lee met with City Manager Norton Bonaparte today and they discussed his termination," spokeswoman Sara Brady said. "The meeting was left open-ended, with Bonaparte saying he would get back to him with more details, which didn't happen by the end of the day. When Lee left it was a conversation/discussion and he did not come away with a date or any type of agreement."
Trayvon Martin, 17, was shot in the chest and killed by volunteer neighborhood watchman George Zimmerman on Feb. 26. Zimmerman claims he shot Martin out of self-defense.
Sanford police have been under fire for not pursuing charges against Zimmerman. A special prosecutor later charged Zimmerman with second-degree murder.
NewsCore contributed to this report.