Vehicle chased by Minnesota police crashes into playground, kids in dramatic video
Newly released video shows the moment a summer Minneapolis police chase came to a screeching halt with the driver crashing into a playground structure and seriously injuring two children playing nearby.
The Minnesota State Patrol released the video Tuesday, which shows troopers trying to pull over 27-year-old Kabaar Powell for speeding on Interstate 94 in Minneapolis before he tried to get away.
Powell then ran 22 stop signs and reached speeds of 80 mph before he crashed into the playground structure at Bohanon Park, where Kyle Peltier was playing with his four children on the basketball court.
The 27-year-old plowed into three of the children with his vehicle, completely running over Kayden, 2, and partially running over Lillie, 4. The third child, 3-year-old Konnor, suffered non-life threatening injuries, according to FOX9.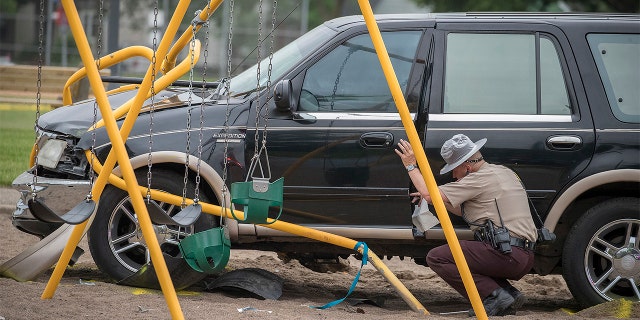 At Powell's court appearance in which he was sentenced to nearly three years in prison, Peltier told the court his older children no longer want to go to the playground.
"I watched helplessly as my children were run over," he said.
CHILD IN CRITICAL CONDITION AFTER POLICE CHASE ENDS IN PLAYGROUND CRASH
State Patrol said that the number of pursuits have climbed dramatically since 2010, and that it expects to make changes to its pursuit policy after the June incident.
"Our policy review is still ongoing," Col. Matt Langer told FOX9. "The policy we have in place right now today is the same policy we had in place on June 11. I don't anticipate that policy is going to stay the same, I anticipate that it is going to change. I don't have, right now today, exact changes that will be made other than to say that that research and that study continues to see what we need to adjust."
The most seriously injured child in the crash, 2-year-old Kayden, left the hospital in August. He was nearly paralyzed but can now walk with assistance, after sustaining a traumatic brain injury. The other two injured children also recovered from their injuries.
The Associated Press contributed to this report