Police charge 2 men in Philly carjacking, crash that killed 3 kids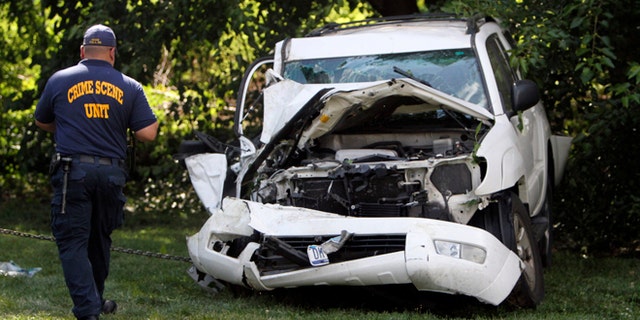 NEWYou can now listen to Fox News articles!
PHILADELPHIA – Police on Monday charged two men with murder in a carjacking and subsequent crash that killed three children and critically injured their mother as they were selling fruit on a street corner for a church fundraiser.
Johnathan Rosa and Cornelius Crawford were each charged with three counts of felony murder and other crimes, police said. Authorities also charged that the carjack victim was sexually assaulted before the men crashed her sport utility vehicle.
Police said Rosa and Crawford forced a woman into her sport utility vehicle on Friday.
Defense lawyer Christopher Warren, though, said Rosa got in the vehicle after Crawford carjacked it. He said Rosa will regret that decision the rest of his life but is now cooperating with police.
Crawford, who had recently been released from prison, was in custody Monday and couldn't be reached for comment. He didn't have a lawyer.
The arrests followed a three-day manhunt underway since the Friday carjacking and crash.
Rosa and Crawford had been hanging out together for a few days when Crawford noticed a woman coming down the street and decided to carjack her, Warren said.
The woman was forced at gunpoint into the backseat, police said.
About a mile from the carjacking site, the accident occurred. Witnesses reported seeing a car speeding through the intersection, then children lying motionless on the ground.
Keiearra Williams, 15, and her brothers, Thomas Reed, 10, and Terrence Moore, 7, were killed. Their mother, Keisha Williams, 34, was also struck and remained in critical condition Monday.
Rosa "can't get the image of the girl flying over the hood of the SUV out of his mind," Warren said.
Rosa was taken to a police station for questioning Saturday after his cellphone was found in the backseat of the carjacked vehicle, his attorney said. At that time, the attorney said, Rosa claimed his cellphone had been stolen and he was released.
After talking with his mother and pastor, he decided to turn himself in Sunday, Warren said.
"He and his mother sat down and decided the best thing they can do is try and cooperate to atone for what happened," he told TV stations.
He said Rosa had never been arrested before and planned to join the Marines in two months.
The carjacked real estate agent and a friend helping the family sell fruit were also injured in the accident.