Police ambush killer Eric Frein won't take stand in bid to spare life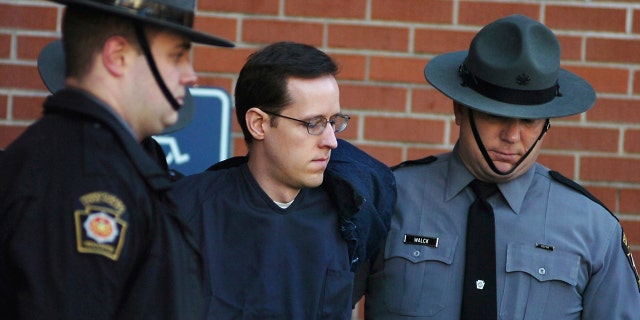 NEWYou can now listen to Fox News articles!
MILFORD, Pa. – The gunman who ambushed two Pennsylvania State Police troopers at their barracks in 2014 decided Tuesday he won't take the stand to try to persuade jurors to spare his life.
Eric Frein said he won't testify at the penalty phase of his capital murder trial, and the defense rested its case. His lawyers later said outside court they did not want to expose Frein to cross-examination, fearing he might try to "rationalize" the deadly ambush.
Prosecutors will call rebuttal witnesses Tuesday afternoon. The jury is expected to begin deliberations on Wednesday on whether to sentence Frein to death or to life in prison without parole.
Earlier in the day, his sister Tiffany Frein, told jurors Eric was her "protector" against their abusive parents, the Morning Call reported.
"Eric understood me. He was the only one," she told jurors. "He made me feel like someone actually loved me. I don't have a family. I never really did. Eric was my home."
Her father, Mike Frein, who earned a doctorate and worked on vaccines, previously acknowledged to the jury he had a drinking problem more than a decade ago.
The defense, trying to prove a mitigating circumstance the jury could weigh in its deliberations, has sought to portray Mike Frein as a domineering, angry but highly accomplished figure whom Eric Frein looked up to and tried to emulate.
Mike Frein, who logged 28 years in the military and retired as a major, admitted to jurors Monday he lied to his family for years about seeing combat in Vietnam and about being a sniper.
Eric, meanwhile, was a military re-enactor and college dropout who lived with his parents into his 30s.
Mike Frein also told the jury he had shared his political views with his son, calling the government too big and railing against abusive police. His son, in a letter he wrote to his parents while on the run, advocated revolution as a way to restore lost liberties.
Frein's decision to avoid the witness stand seemed to come as a relief to one of his lawyers, Bill Ruzzo.
"Defendants typically rationalize and we were afraid that might happen," he told reporters.
Frein, 33, was convicted last week of killing Cpl. Bryon Dickson II and critically wounding Trooper Alex Douglass in an unprovoked, random sniper attack at the Blooming Grove barracks. He was captured after a 48-day manhunt. Prosecutors have said he was trying to foment a rebellion against the government.