Police add earrings to computer image of unidentified girl found dead on Boston Harbor island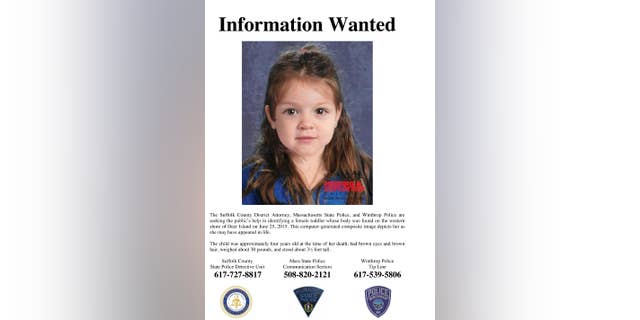 BOSTON – Earrings have been added to the computer-generated image of a unidentified young girl whose remains were found in a trash bag on a Boston Harbor beach.
The new image was posted Thursday on the state police Facebook page.
Police have been trying to identify the child for two weeks. Her remains were found June 25 by a woman walking her dog on Deer Island.
The girl is thought to be around 4 years old. She has long brown hair, chubby cheeks and expressive brown eyes.
The tiny earrings were added after new information came in from the medical examiner and the National Center for Missing and Exploited Children.
The child was wearing white leggings with black polka dots. Inside the bag with her remains was a zebra-print blanket.