Police: 1 dead, 16 others to hospitals after shuttle bus crash on I-95 in Va.; man in custody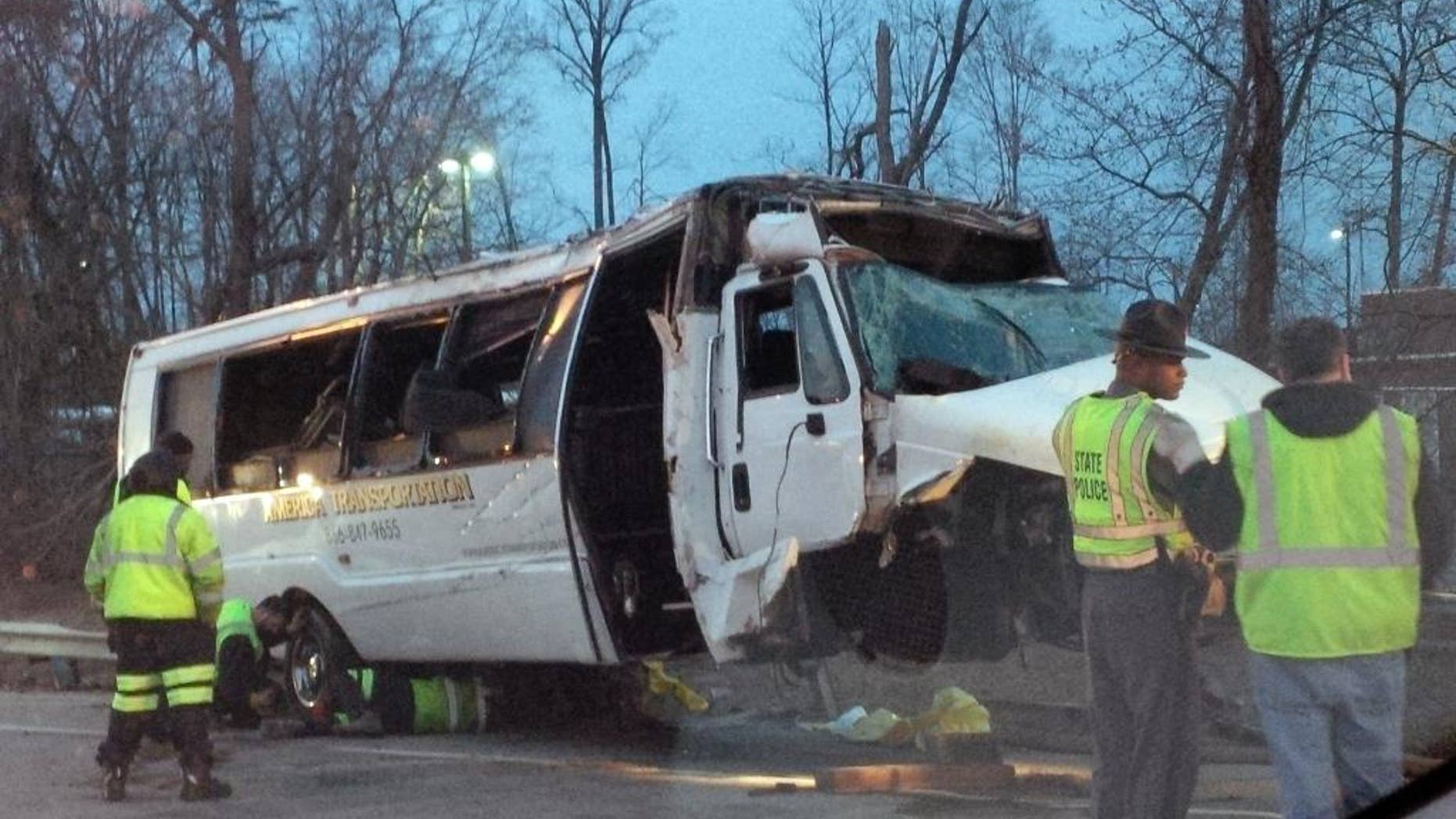 WASHINGTON – A shuttle bus struck a guardrail and overturned before dawn Sunday along busy Interstate 95 south of the nation's capital, leaving one person dead and sending 16 others to the hospital, Virginia State Police said.
The bus was headed south on the heavily traveled East Coast artery when witnesses reported a white, speeding four-door passenger vehicle swerved into the bus's travel lane. The bus then swerved to the right to avoid the sedan, ran off the road, struck the guardrail and overturned, Virginia State Police said.
Troopers say the driver of the white sedan was later arrested and charged with one felony count of hit-and-run. The Virginia State Police identified him as 31-year-old Raphael Manuel Barrientos of Dumfries, Va. A woman who answered the phone at a telephone number for his home declined to comment.
The crash occurred on the interstate in northern Virginia's Fairfax County and police were called at 3:28 a.m. Sunday, State Police spokeswoman Corinne Geller said.
Geller said the man who died was one of two people flown from the crash to a northern Virginia hospital. He was identified as 24-year-old David Alberto Sanchez of Woodbridge, Va.
Geller said one other person was being treated for life-threatening injuries Sunday. Two others, the driver and a passenger, were being treated for serious, but non-life-threatening injuries. The remaining 13 passengers suffered minor injuries.
Geller identified the crashed vehicle as an American Transportation bus. An answering service dispatcher for that company said American Transportation had no information to release. A person who replied to an e-mail sent to the company's address referred questions to the Virginia State Police.
News photographs taken at the site early Sunday showed police had erected orange safety cones at the site and used floodlights to illuminate the overturned commuter bus. The white bus was on its right side in a grassy area, its rear pointed away from a crumpled guardrail. Crews were visible using a tall crane trying to right the bus. Its windshield was shattered and much of its right side crumpled from the right front bumper backward.