'Ominous' piece of burnt paper descends from sky amid fast-moving Calif. blaze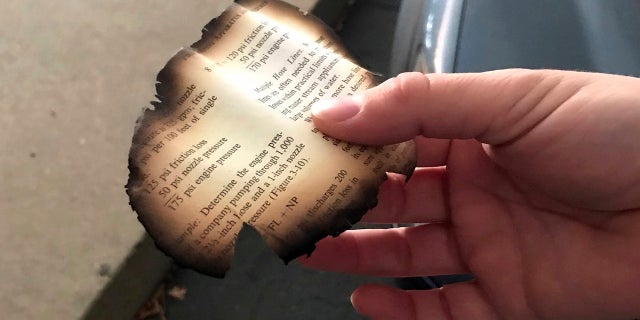 A small, "ominous" piece of burnt paper descended from the sky Thursday during a fast-moving wildfire in Northern California.
The Camp Fire raged as tens of thousands of people fled and a couple thousand structures were destroyed in Paradise, about 180 miles northeast of San Francisco.
Nicole Kowalczyke, of Chico, said she stepped outside her home to look at smoke from the fire around 10 miles away.
"It looked very ominous ... and then this piece of paper came from nowhere," Kowalczyke told The San Francisco Chronicle. "It was kind of like a leaf ... how they fall down."
The sky was pitch-black with flashes of purple fire and ash falling from the sky when she found the paper, The Chronicle reported.
"I thought, 'If this is a piece of the Bible, this is going to be crazy,'" she said.
When she looked a closer, she realized it was a page from a kind of fire manual that included information about fire hose pressure, the report said.
Kowlczyke's photo has since gone viral on social media.
The towns of Pulga and Concow and most of Paradise were evacuated.
"It's a very dangerous and very serious situation," Butte County Sheriff Kory Honea said. "I'm driving through fire as we speak. We're doing everything we can to get people out of the affected areas."
The sheriff confirmed reports that evacuees had to abandon their vehicles. Rescuers were trying to put them in other vehicles, he said.
"The message I want to get out is: If you can evacuate, you need to evacuate," Honea said.
The National Weather Service issued red-flag warnings for fire dangers in many areas of the state, saying low humidity and strong winds were expected to continue through Friday evening.
The Associated Press contributed to this report.