Pony rescued from hayloft in dramatic fashion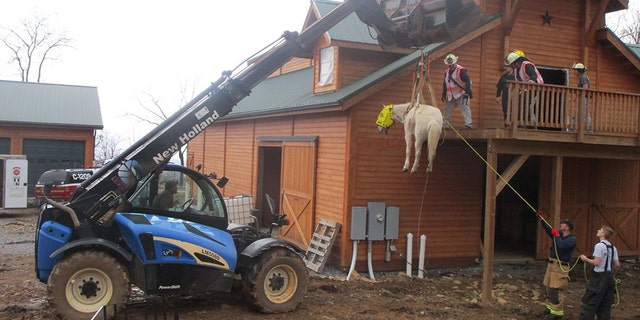 NEWYou can now listen to Fox News articles!
A precocious pony looking for a late-night snack had the adventure of a lifetime earlier this week and had to be rescued after climbing up to a hayloft and getting trapped.
Doug Monaco, the chief of the Little Fork Volunteer Technical Large Animal Rescue Team, said they received a call Monday morning that a 12-year-old Welsh Percheron cross pony named Holly had to be extricated from the top of a hayloft after she walked up the stairs in search of the mother-load of food.
Monaco told Fox News on Friday it seems like one of the draft horses at a property in Page County had moved an obstacle that kept the animals out of the barn sometime Sunday night. Seeing an opportunity for a late-night snack, Holly trotted into the building and followed her nose to the hay – which was on the second-floor loft.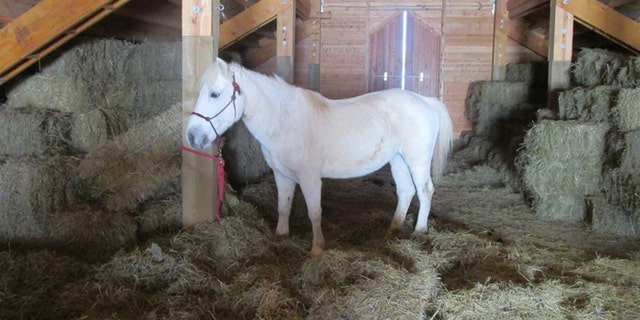 "Because of their poor depth perception, horses don't do well going back down steps," Monaco said.
When Monaco and crew arrived at the barn, Holly was "calm, cool and collected."
After assessing the situation, Monaco and his team – with the help of the Luray Volunteer Fire Department, the Page County Sheriff's Office and a local veterinarian – determined the best way to bring Holly down was to use a telehandler machine from a nearby property.
"We thought about using our rig to do a pulley system to a rescue glide to bring her down the stairs, but the stairways were not wide enough and there was a 90-degree turn at the bottom," he said.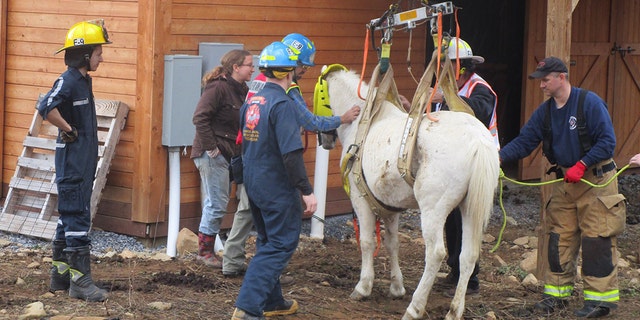 With the help of the veterinarian, they were able to sedate Holly before using a sling, straps and ropes to bring her down.
"Holly seemed apprehensive when she was moved off the porch and found herself [20 feet] off the ground, but she remained calm and was slowly lowered to the ground," the team wrote in a Facebook post documenting the dramatic rescue.
Monaco said this was the second time in their seven years rescuing large animals they have had to rescue a pony from a hayloft. In 2016, they received a similar call from Botetourt County, Virginia.
"It was a true oddity," he said.