Photo of Tennessee firefighter cradling little girl after car accident goes viral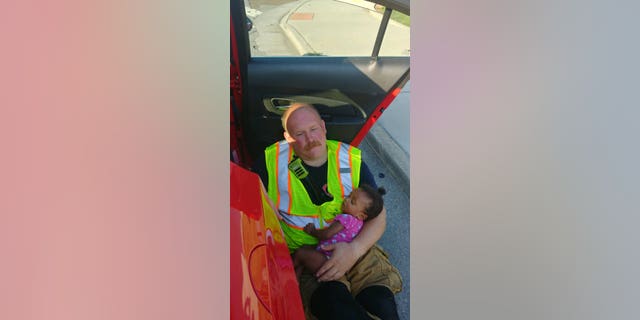 NEWYou can now listen to Fox News articles!
A Tennessee fire captain is being praised online for his heroic efforts after he was photographed cuddling a child after she was in a car accident.
Capt. Chris Blazek, of the Chattanooga Fire Department, said he was dispatched with Engine 6 to the scene of a motor vehicle accident on Saturday on State Route 58.
MAINE FIREFIGHTER GETS 'THANK YOU' KISSES FROM DOG HE RESCUED FROM ROOF
Three small children, ages four months to seven years, were in the car, and their pregnant mother, was "hysterical" due to stomach and back pain. The two older children were fine, Blazek said, but the youngest was upset, too.
The fire captain wrote in a Facebook post that as he quickly examined her to make sure she was alright, the baby "immediately laid her head on my shoulder."
Blazek said that firefighters on scene had the situation sorted out, so he "decided to sit and take a break with my new friend."
HIGH SCHOOL GRAD SURPRISED BY RETURN OF DAD DEPLOYED OVERSEAS
While the mother was transported, presumably to a hospital, Engine 6 firefighters stayed with the children until family members were available.
"It's moments like this," Blazek said, "that I am reminded, this is why I do the job."