Phillies' minor-league affiliate gives away funeral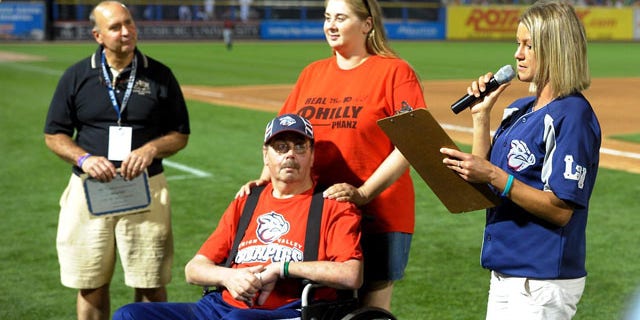 NEWYou can now listen to Fox News articles!
ALLENTOWN, Pa. – Minor league baseball clubs are known for staging unusual promotions and giveaways to draw fans out to the ballpark. But the Philadelphia Phillies' top farm club took giveaways to a whole new level on Tuesday, awarding a free funeral to a fan recently diagnosed with ALS.
Steve Paul, 64, of Freemansburg, Pa. got a standing ovation as he was wheeled onto the field at Coca-Cola Park in Allentown and announced as the recipient of a funeral package from the Lehigh Valley IronPigs. The package includes a casket, a choice of embalming or cremation, hearse, headstone, flowers and a funeral or memorial service. The total value of the items involved: nearly $10,000.
Kevin Reichel, who owns Reichel Funeral Home in nearby Northampton, Pa., told MyFoxPhilly.com he was initially hesitant about such a seemingly morbid giveaway at a family event. However, he soon changed his mind.
"A baseball game is a family setting and I think if you are going to talk about your funeral or anything important in life, the first people you turn to are family," Reichel told the station.
Fans had to submit a 200-word essay describing their ideal funeral, and explain why they deserved a free one. More than 50 essays were submitted.
Paul wrote an essay explaining that he was diagnosed with ALS, also known as Lou Gehrig's disease, in June. ALS is a progressive nerve disease that typically leads to paralysis and death.
"The disease is racing, as my family must watch the strength, energy and life quickly drain from my body," he wrote, according to the Associated Press. "No one was prepared, emotionally or financially, for the loss or to prepare a final memorial."
He said he asked for the funeral package to help comfort his family "and take one major concern from their minds." His funeral "should not be morbid or sad, but a gathering to enjoy and celebrate life and family I dearly loved," he wrote.
The Associated Press contributed to this report
Click for more from MyFoxPhilly.com